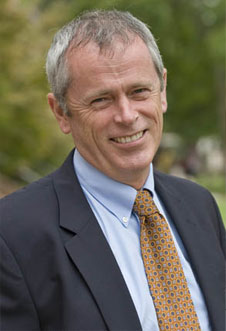 The beginning of the new year has brought the promise of change and opportunity, with a new administration in Washington and another here on the Hopkins campus. In March, we will welcome the arrival of Ronald J. Daniels as the university's 14th president. President Daniels comes to us from the University of Pennsylvania, where he served as provost and chief academic officer.
As Ronald Daniels arrives, President William R. Brody will step down after 12 years at the helm of Johns Hopkins. For the Whiting School of Engineering, President Brody's departure has a special significance: While the university bids farewell to a president, we are also saying goodbye to an engineer and a faculty colleague. During his tenure at Johns Hopkins, President Brody has been recognized for his research as well as his advocacy for science, technology, engineering and math (STEM) education and for his work in shaping policy and fostering better understanding of the role that research and development plays in our nation's competitiveness in the global marketplace. In fact, his election to the National Academy of Engineering in 2007 was based on both his contributions to digital radiography and his "leadership in engineering at the interface between academia and industry."
At the Whiting School, federal funding for basic research has enabled breakthroughs and discoveries that advance human knowledge while providing our faculty and students with the freedom and resources they need to do what they do best—innovate and solve challenging problems that are of strategic importance to the school, the nation, and the world.
At the Whiting School's Institute for NanoBioTechnology and Institute for Computational Medicine, for example, federal research funds are being used to unlock the causes and improve the treatment of some of today's most devastating diseases, including cancer and heart disease. In this way, funding for basic research generates new technologies that, in turn, sustain economic growth and contribute to the betterment of humankind.
Congress' support of efforts that address problems of global significance, such as sustainable energy sources and the supply and distribution of safe water, must be redoubled. I believe that a commitment to increased federal funding for basic research and development that will enable these efforts is critical—not only to the future of higher education and advancements in science, medicine, and technology, but also to our country's continued leadership in the global marketplace.
With new leadership in Washington, economic challenges of grand proportions, and so many interests competing for federal funding, it is more important than ever that we come together as a community to continue President Brody's legacy.
Sincerely,
Nicholas P. Jones
Benjamin T. Rome Dean, Whiting School of Engineering