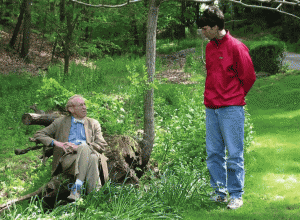 In his 51 years at Johns Hopkins, where his Friday afternoon field trips have become the stuff of legend, Reds Wolman '49 has shaped the brightest minds in geomorphology–and forever changed the field.

In his 51 years at Johns Hopkins, where his Friday afternoon field trips have become the stuff of legend, Reds Wolman '49 has shaped the brightest minds in geomorphology—and forever changed the field.
On a crisp, cloudless morning in late October, on the kind of day that you hope for when someone utters the word "fall," Markley Gordon "Reds" Wolman stands on the grassy banks of Western Run in northern Baltimore County and surveys the water trickling a few feet below.
Wolman knows the winding creek. He knows it well. Every year for the last 51 years he's brought the graduate students in his geomorphology class to this narrow, twisting tributary of the Gunpowder River to measure the dimensions of the channel, and to record the geometry of its orderly, repeated bends—what geologists refer to as its "meander." With nary a glance, he can tell you where the soil is sandy and where it's full of clay, why the banks on the near side aren't as steep as the ones across the way, and the overall nature of the run's fluvial geomorphology—why it looks the way it does right now and how it will look in the future.
It's more of a conversation than a lecture, one that Wolman '49 energetically leads with a lot of pointing and gesturing. He could spend hours out here.
The air is cold. The wind persistent. And the terrain—a horse pasture—is pretty rugged for the 84-year-old professor of geography. Wolman, dressed in a bright orange Marmot shell, a navy blazer, khakis, and a polka dot bow tie, has few complaints, however.
Well, really he has one: He hates the walker that he has been using lately. "Maybe I should have quit teaching after 49 years," he says. He is smiling.
Back in 1958, when Wolman joined the Hopkins faculty as an associate professor and chair of the geography department, then part of the School of Arts and Sciences, he was a brisk walking, fiery-haired, 34-year-old geologist with the U.S. Geological Survey who had already made major contributions to the field.
His 1953 paper on sampling particle size distribution of riverbeds led to the "Wolman Pebble Count" as a standard technique for geomorphologists everywhere. Fluvial Processes in Geomorphology, the book Wolman co-authored with Luna Leopold and John Miller in 1964,remains a seminal text more than 40 years after it was published. And through his policy and public health work, Wolman has given us new ways to think about the effects of land use, urbanization, and dams on channels and helped frame the international discussion on sustainable development.
"Reds was a critical member of the generation who brought geomorphology from a qualitative historical discipline into a modern quantitative and quasi-engineering field that sat astride its roots in geology and geography and also tried to make engineering recommendations for the betterment of society and social use," says Jack Schmidt, PhD '87, a former Wolman advisee who is now a professor in the Department of Watershed Sciences at Utah State University.
Wolman's research has earned him membership in the National Academy of Sciences and the National Academy of Engineering as well as dozens of other prestigious honors and awards. But research has never been all that defines him. He is a teacher, one who has made his mark over the last five decades by shaping some of the brightest minds in the field. On the wall of Wolman's cluttered third-floor office in Ames Hall, there's a framed copy of an "academic family tree" crafted by a former student. It shows how many academic careers have sprouted from the man everyone (from the lowliest undergraduate to the most distinguished university president) calls "Reds." The first few lines show the names of some of Wolman's early graduate students. Branching off of these names are Wolman's students' graduate students in geography and geology and then, those students' students in these fields. As of 1995, the tree boasted 47 children, 106 grandchildren, 17 great-grandchildren, and four great-great-grandchildren. It's still growing.
"Reds has a very rare combination of crystalline intelligence, brilliance, commitment to students, charm, and modesty." — Gordon Grant, PhD '86, Research Hydrologist USDA Forstry Service
"Reds has a very rare combination of crystalline intelligence, brilliance, commitment tostudents, charm, and modesty," says Gordon Grant, PhD '86, a research hydrologist with the USDA forestry service and courtesy professor of geosciences at Oregon State University. "You can find people who are pretty bright but don't have the other qualities Reds has. It's rare to find it all in the same person.
"If you want to know what kind of a teacher Wolman is, don't ask him. Doing so will cause the articulate, witty man with the seemingly insatiable curiosity to clam up like a first semester graduate student. Sitting in his office one recent afternoon, surrounded by stacks of papers and books, with various maps and photographs strewn here and there, he searches for the right assessment of himself. "I guess you can say I'm enthusiastic," is all he'll say.
Ask Wolman's former students and colleagues about him, however, and the accolades and anecdotes flow. Grant calls his former advisor "a Zen master with overtones of Woody Allen." He recalls with great delight the Friday afternoon field trips he made as part of Wolman's geomorphology class. Crammed into a rattling Hopkins van with no seat belts, the smell of brake fluid in the air, the class would visit a series of fields and streams around Baltimore with Wolman at the wheel. While the students would take measurements and jot down notes, Wolman would walk around and smoke a cigar. Then he'd embark on a sort of Socratic dialogue, asking question after question about what they saw and why it looked as it did.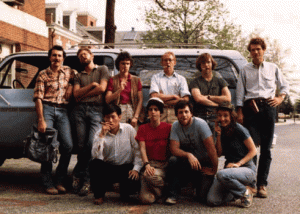 "We were all cold and fumbling for answers," Grant says. But Wolman never handed them out. Instead he challenged his students to make connections and think for themselves. "Reds has an unusual talent for making the people around him, including his students, feel smarter than they really are," Grant says. "He creates this illusion that you can actually think better than you really can and after a while you've actually created some new synaptic connections. Fundamentally, he taught me to trust my scientific instincts."
Wolman relishes the field trips, and nothing, not even a couple of hip replacements, has led him to stop doing them. Now he just brings along a folding chair. "There's no substitute in a field science for going out and seeing what it's like," he says. "It's indispensable. It's also a lot of fun.
"In the classroom, Wolman works from a bare-bones syllabus containing such diverse elements as excerpts from Ulysses and Peanuts comic strips. During his informal lectures he might veer from the topic at hand to tell a story about the time he was on the Yellow River or to hand around snapshots he took while cruising down the Mississippi. There is a purpose to it all, says Thomas Dunne, PhD '69, a professor of geography at the University of California, Santa Barbara, and one of the most prolific branches of Wolman's academic family tree.
"Reds has this way of seeding little things in your mind that might not come back to you until much later," Dunne says. "It's seamless, his attitude about learning and passing on the learning.
"There's no substitute in a field science for going out and seeing what it's like…it's indispensable. It's also a lot of fun." — Reds Wolman
"Whether in a classroom or out in the field, Wolman exudes warmth. He seems genuinely interested in what people have to say and doesn't discount opinions that he disagrees with. At the same time, he's always challenging people to think for themselves. Just parroting back what you've read isn't going to cut it in a Wolman class, Dunne cautions.
"In graduate school, students come in predisposed to believe that if something is published it's correct," Dunne says. "Reds is always trying to remind you that there are all different ways of thinking. He's always undermining his own authority and other people's authority so you will think for yourself and not just accept."
Teaching comes so naturally to Wolman you would think it has always been his life's calling.
It hasn't. As a child he spent a couple of summers on a family friend's Connecticut farm and from the time he was about 12 until he was a Hopkins undergraduate, he wanted to be a dairy farmer. "I was a member of the 4HClub and living in a rowhouse in Baltimore," he says, laughing.
Wolman's family has been involved with Hopkins for the better part of a century. His father, Abel Wolman '13 A&S, '15 Eng, is known as the "father of sanitary engineering." The elder Wolman pioneered the chlorination process in public water, thereby bringing clean drinking water to millions of people worldwide. Abel Wolman established the Department of Sanitary Engineering in the School of Engineering and the School of Hygiene and Public Health, and chaired it from its start in 1937until 1962. He was involved with Hopkins until his death in 1989 at the age of 96.
Father and son had a close relationship, one based on reading about and conversing about a wide range of issues, and Abel Wolman's involvement and interest in the field of natural resources made an impression on young Reds. He decided to pursue his love of the land by studying in the basic sciences related to the landscape. After graduating from Hopkins, he went on to earn an MA and a PhD in geology from Harvard.
Wolman loved his work with the U.S. Geological Survey, where he worked from 1951 until 1958, but when Hopkins offered him the job as chair of the Isaiah Bowman Department of Geography, there was no question he'd accept. "I'm a Baltimore boy, a Hopkins product," he says. Committed to the concept that the department become interdisciplinary and focus on all aspects of science and water policy, he was instrumental in bringing together the Department of Geography with the Department of Sanitary and Water Resources Engineering to create the Department of Geography and Environmental Engineering within the Whiting School of Engineering. Wolman chaired the department from 1970 to 1990 and made sure that it retained ties with the School of Public Health. During his years at Hopkins, Wolman has also served as interim provost and vice president of academic affairs. Twice.
"If you did a poll to determine the person who most represents the Hopkins ideal, everybody would say Reds. It would be a landslide." — Erica Schoenberger, Professor, Department of Geography and Environmental Engineering
"I don't think it's possible to imagine Hopkins without Reds," says Erica Schoenberger, a professor and colleague of Wolman's in the Department of Geography and Environmental Engineering since the 1980s. "He's worked in every corner of the university, from engineering to public health to central administration. Everyone knows him. He knows everybody. If you did a poll to determine the person who most represents the Hopkins ideal, everybody would say Reds. It would be a landslide."
Wolman jokes about quitting teaching, but it's doubtful that he ever will. Sure he "sort of retired" back in the 1990s, but he has continued teaching his water resource development class each fall and his geomorphology class in the spring.
What he likes about teaching, he says, is that it allows him to talk about and experience the landscape with new generations of intelligent, energetic young scientists. "It's the graduate students that make you," he says. "If we have a program that attracts some good graduate students, it is they who help set the tone and the character of the enterprise. It is they who will encourage other people to come. It is their energy, their productivity, their thinking that matters," he says. He pauses to consider his words. "And if what they publish makes you look good, well then it's as if you did something," he says, laughing.
The relationship may start off as one between professor and student, but it usually doesn't stay that way. "Reds makes it possible to establish a lifelong friendship," says Schmidt. After Wolman's students are awarded their degrees and leave Hopkins, they don't ever really leave Reds. He comes to visit them. He writes. He calls. They do, too. Just as Wolman shared conversations with his father over the course of many years, he stays in touch with his former students because he wants to keep the conversation going, to keep learning about what they're doing and to share his research with them.
His students take note of this relationship and try to carry it on with students of their own. However, Reds Wolman is not an easy act to follow, says John Costa, PhD '72, a retired geologist and university professor who lives in Vancouver, Washington.
Costa remembers one spring day near finals time when an open window in the geography department office allowed in the noise of a particularly spirited game of lacrosse on the Keyser Quad. "A secretary in the office grumbled something about how the students should be in the library," he says. "Reds [a former All-American lacrosse player at Hopkins] takes off his glasses, looks out the window, and starts yelling at the students outside, 'No, no, no. Curl that ball.' He didn't care that they weren't in the library. He wanted to make sure they were playing the game right."
Costa marvels at the story as he is telling it, almost four decades later. "Reds has the perfect reaction to every situation at every point in time," he says. "How could you not want to be like him?"