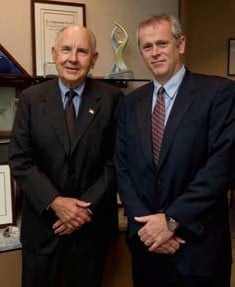 A. James Clark, longtime friend of the Whiting School and a university trustee emeritus, has committed $10 million to the Johns Hopkins University to endow the deanship of the university's Whiting School of Engineering in honor of his mentor and business colleague, Benjamin T. Rome. Nicholas Jones, a former chair of the school's Department of Civil Engineering and dean of the Whiting School since August 2004, was appointed the inaugural recipient of the Benjamin T. Rome Deanship in 2008.
Rome, who died in 1994, was a 1925 civil engineering graduate of Johns Hopkins Engineering and throughout his lifetime generously supported the university's School of Advanced International Studies (SAIS), especially its China Studies Program. In fact, one of the two SAIS buildings in Washington, D.C., bears his name.
While Rome was president and CEO of the Washington D.C.-based George Hyman Construction Company, which was founded by his uncle, he hired a freshly minted college graduate named A. James Clark in 1950. Rome soon became not only Clark's employer but also his mentor. In the late 1960s, Clark succeeded Rome as president of Hyman Company, which was later named the Clark Construction Group. Today, Clark is chairman and chief executive officer of Bethesda-based Clark Enterprises, a holding company for a variety of businesses, including Clark Construction Group.