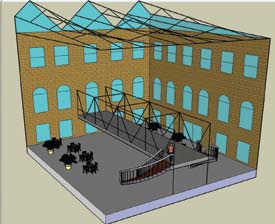 Few visitors to Homewood's gilman Hall realize that the second floor passage leading into the Hutzler Reading Room is built on a steel girder truss bridge spanning what was once an open courtyard. Decades ago, that breezy courtyard was enclosed to provide a home for the university bookstore, with the store's ceiling suspended from the trusses above. Plans for the renovation of gilman Hall now under way call for the removal of the bridge, to be replaced with a soaring glass-roofed atrium.
But 15 Civil Engineering seniors in their capstone Design and Synthesis II class were asked to imagine a different future: How could the goals of the three-year, multimillion dollar gilman Hall renovation be achieved while at the same time preserving and incorporating the second floor
truss bridge?
"Our theme has been preservation engineering," says Michael Palantoni '08, explaining that the first step in preserving any structure is first finding out how it's put together. "Part one is an existing condition survey, which means doing a detailed structural analysis of the building in its current state." In several hard-hat visits to the construction site, students went at the passageway with hammers and saws to see past finished walls, floors, and ceilings for a good look at the bones of the bridge.
"We probed into the bridge by taking out sheet walls to see the old steel connectors," Palantoni says. "It was an interesting challenge. The roof is very complex and involved." Site visits gave the students an opportunity to do field drawings and take careful measurements, which they subsequently employed to calculate the strength and capacity of the existing structure. On another visit, the site construction supervisor took them from the basement to the attic level of gilman Hall for an up-close look at building practices from nearly a century earlier. "You can see how columns change in size as they descend through the building," reports Palantoni. He adds, "You don't see structural brick nowadays, and you know when you see a three-foot-thick brick wall you've got some pretty serious structural elements."
After probing, measuring, and calculating, the students were ready to begin designing. They broke into groups of three and began imagining new uses for an old bridge. "The biggest thing in trying to use an existing structure is figuring out how to do it economically," says Zach Rosswog '08. "Our group opted to keep existing steel columns in place, but proposed welding steel plates to their sides in order to increase load capacity."
In final presentations each of the five student groups had to solve a complex set of design criteria, which called for allocating space for a 1,500-square-foot lecture hall, creating mechanical space at or below the second floor level, preserving the existing bridge while adding north/ south traffic flow to its east/west axis, and covering the final structure with a glass roof above the fourth floor level. Most of the groups opted to strip the bridge of its original brick cladding to expose and highlight its steel truss structure. Proposals also included adding new stairways or separate bridge walkways to accommodate north/south pedestrian traffic. Each team made a detailed presentation before their classmates
and a group of engineering faculty and construction experts, who critiqued the work.
The students found that when moving from theory to practice, experience counts. "The biggest challenge in any project, but especially something like this, is generating an actual way of accomplishing your concept," says Palantoni. "It's connecting what you want to do with what actually exists, and resolving all the structural issues."