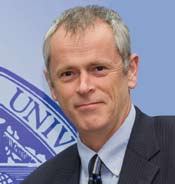 Earlier this year I had the opportunity, along with a few colleagues, to visit China to help initiate new partnerships with Shanghai Jiao Tong University and Beijing's Tsinghua University. These partnerships, which are just two of many that the Whiting School has recently forged, are part of our larger strategic initiative to ensure that our faculty and students—both graduate and undergraduate—continue to have unique and diverse opportunities to exchange knowledge, share research, and solve problems of common social interest.
But they also serve as a reflection of our fundamental mission to encourage collaboration, innovation, and excellence on all levels of research and education. And while these partnerships are new, our commitment to collaboration is not. For example, our part-time engineering program, Engineering and Applied Science Programs for Professionals (EPP), has a long-standing partnership with Hopkins' Applied Physics Lab, finding its roots there more than 40 years ago. For decades, our students have benefited from a vast range of educational opportunities in the schools of Medicine, Arts and Sciences, Business, Nursing, Education, International Studies, and Public Health, not to mention the Peabody Institute and the Kennedy Krieger Institute. And each department within the Whiting School works, in some way, with faculty and students from other departments, both within the Whiting School and across Johns Hopkins.
But now more than ever, engineering at Johns Hopkins is embracing the spirit of collaboration. The Whiting School recently initiated the Center for Biomedical Innovation and Design, a new translational research center devoted to joining the expertise and skills of students and faculty with that of industry in order to bring more innovative products from the lab bench to the marketplace and bedside. This past October, we dedicated the campus's newest building, the Computational Science and Engineering Building (see p. 20) which, housing four interdisciplinary centers and institutes, stands as a tangible example of this collaborative spirit. And we have more than 20 institutes, centers, and laboratories dedicated to crossing disciplinary research.
I'm sure you've noticed in past magazine issues the many stories of our alumni who are engaging in interdisciplinary research, as well. After an education steeped in collaboration, our graduates continue to practice it in their own research and careers. As you read this issue, I urge you to take note of the creative ways the faculty, students, alumni, and administration of the Whiting School and Johns Hopkins embrace the spirit of collaboration… and perhaps discover new ways you can join us in our ongoing pursuit of collaboration, innovation, and excellence.
Sincerely,
Nicholas P. Jones
Benjamin T. Rome Dean, Whiting School of Engineering