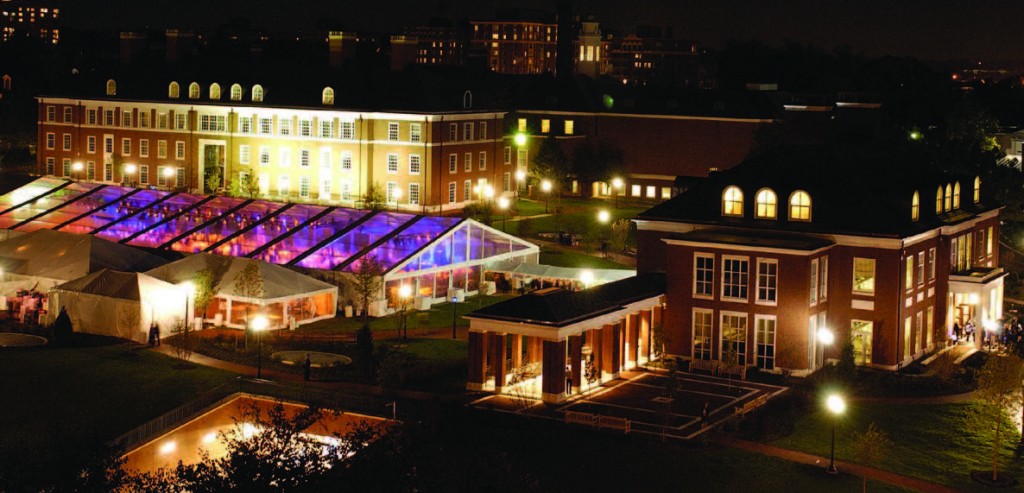 The Homewood campus debuted its new "front door" on the evening of October 27, 2007, when the Alonzo G. and Virginia G. Decker Quadrangle, the Computational Science and Engineering Building, and Mason Hall were formally dedicated at a gala that included more than 800 Johns Hopkins alumni, friends, faculty, and students.
Before dinner, guests had the chance to explore the Whiting School's new state-of-the-art engineering facility, speak with faculty and students working there about their research, and enjoy student-led tours. Mason Hall houses the new undergraduate admissions office and visitors center and includes historical displays about the university, electronic media about all aspects of Hopkins, and an alumni board room.
Honored at the dinner in speeches and videos were former chair of the university board of trustees Raymond A. "Chip" Mason, and his wife Rand, and the late Alonzo G. Decker, and his wife, Virginia, after whom the admissions and visitors center and new quadrangle are named. The event also recognized Willard Hackerman '38, president of Whiting-Turner who oversaw construction of the entire project, and Rae and Richard Swirnow '55, who are providing support for the Computational Science and Engineering Building's mock operating room.