On a recent afternoon after receiving an award for corporate leadership from the Greater Dallas Asian-American Chamber of Commerce—one of several awards she has garnered in the last few years—Winjie Miao '98 returned home with an 11 x 17-inch foam-board headshot of herself. "I was proud of the award, and flattered, but what do you do with a giant poster of yourself?" she laughs. "Maybe make a dartboard … or cover a big bathroom wall."
For someone who was recently appointed president of Harris Methodist Northwest Hospital, one of 13 acute-care hospitals under the Texas Health Resources (THR) umbrella, Miao maintains a sense of humor and a centered look at what is important to her—in her work and her personal life.
"…at the end of the day, I make decisions based on what is right for the patient. You can't go wrong with that."Winjie Miao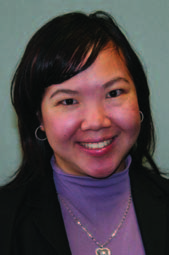 And at 30 years old, Miao is one of the youngest nationwide to hold such a post.
With a bachelor's degree in biomedical engineering from the Whiting School and a master's in health care administration from the University of North Carolina, Miao jumped right into her career, taking two stairs at a time. In 2000, she joined THR at Presbyterian Hospital of Dallas. During her seven years there, she completed her administrative residency and fellowship and moved on to don several hats, including heading up Oncology Services, Clinic Services, and—at the tender age of 23—Planning and Construction.
In that role, she oversaw a $207 million campus expansion plan, which included a new bed tower; new diagnostic and treatment space; new labs and a radiology department; a new parking garage; and an additional hospital building.
"I was lucky. I came around at the right time," she says, adding that her foundation in biomedical engineering helped her land the plum position.
"One of the most satisfying parts of overseeing the expansion project at Presbyterian was being able to use my engineering skills and knowledge to figure out how all the pieces would ultimately fit together," she says. "When you're spending that much money to create something new instead of simply replacing it with a more state-of-the-art version, you want to ask questions, create improved processes and best practices, and ultimately, end up with a hospital complex where function drives form, instead of the other way around.
"No matter what project I am working on, the key for me has invariably been my willingness to listen. And at the end of the day, I make decisions based on what is right for the patient. You can't go wrong with that."
In her new post at Harris Methodist, she has already added new technologically advanced equipment and is looking into creating a more robust education program, wooing more specialists to the roster of physicians, and continuing to reach out to the community through programs like hand hygiene and CPR education, car seat checks and safety, and a health and wellness program for seniors that includes line dancing. "Already, I see how committed people are to this hospital and its rapidly growing community," she says. "There is so much energy."
Before falling asleep each night, Miao analyzes her day. "I think about each conversation I had and what I heard. I ponder the decisions I made and the ones I will need to make. And I always ask myself, 'What can I learn from that?'"
What drives Miao in her work is knowing that every decision, every idea, is a step toward making the experiences of her patients—and staff—as smooth and positive as possible. "No one wants to be in the hospital; it can be terrifying and painful," Miao says. "But knowing that I can impact an entire experience for a patient—the big picture for that person and for all of us—moves me to keep asking questions and then, to go forward from there."