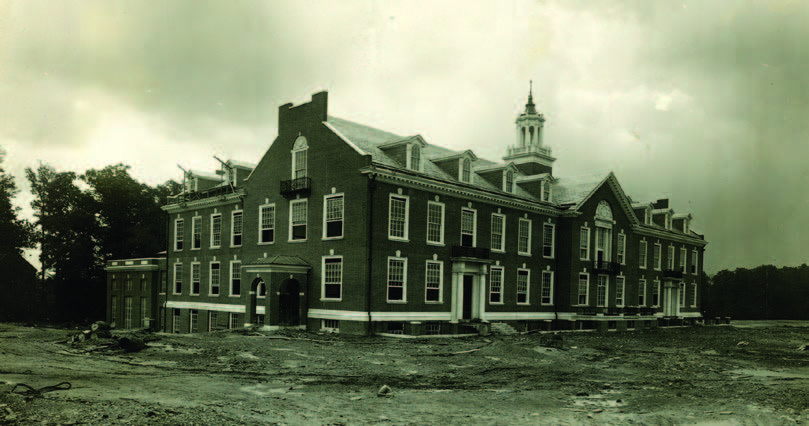 In the beginning, there was Gilman Hall—or was it Maryland Hall? History grants Gilman Hall status as Homewood campus's first academic building, but there exists some speculation as to which building actually first welcomed students.
There is no debate, however, as to Maryland Hall's role in putting the School of Engineering on the map.
The school's origins trace back to 1912, when the Maryland State Legislature passed the "Technical School Bill" that made it possible for Johns Hopkins to establish the Department of Applied Science and Advanced Technology, the precursor to the School of Engineering. The state of Maryland that same year agreed to pay for the construction of two engineering-specific buildings at the university's new Homewood campus.
Construction on Homewood's first two academic buildings, the Mechanical and Engineering Building (later renamed Maryland Hall to honor the state's role in establishing the Whiting School) and Gilman Hall, began in 1913. The Mechanical and Engineering Building was completed in 1914.
Joseph Evans Sperry designed the building, which cost roughly $285,000—a bargain when you consider the price tag of its new neighbor, the recently completed Computational Science and Engineering building: $37 million.
Not to say that Maryland Hall was not state-of-the-art for its day. It contained classrooms and labs equipped for experiments in photometry, high-voltage electrolysis, wireless telegraphy, fuel analysis, refrigeration, materials testing, and a range of other uses.
In the June 1914 edition of the Johns Hopkins Alumni Magazine, C.C. Thomas, a professor of mechanical engineering, wrote that the new building was designed not just for undergraduate instruction in engineering, but the "investigation of problems fundamental to the industries and to the advancement of engineering knowledge."
The main portion of the original building had three floors, an attic, and a one-story structure at its rear called Machinery Hall. The hall, in use through the 1950s, was 200 feet long, 50 feet wide, and 24 feet high. It featured a traveling crane for the handling of heavy machinery and an electrical switchboard that controlled all the space's functions and "experimental circuits."
Major General George W. Goethals, a civil engineer who famously supervised construction of the Panama Canal, gave the keynote address at the building's dedication ceremony on May 21, 1915. The university dedicated Gilman Hall on the same day, but by some accounts Maryland Hall was finished and occupied first, according to university archivist James Stimpert.
So why is Gilman regarded as the first building? Stimpert has a theory.
"Perhaps this was because Gilman housed the School of Arts and Sciences, which had been around since 1876, while engineering was the new kid on the block and had no history, yet," he says. "I believe there was also some resistance to engineering on the part of some Arts and Sciences faculty, who feared that the School of Engineering would be a trade school rather than an academic division and would, therefore, lessen Hopkins' prestige."