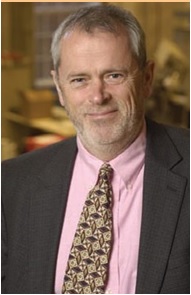 The opening of the Computational Science and Engineering Building this fall was an exciting time for the entire Hopkins community. The building itself combines the best of form and function. Bordering the new Decker Quad, it is adjacent to Mason Hall, and its presence contributes to the Homewood campus's new "front door."
The building makes a strong statement about the Whiting School of Engineering's commitment to leadership in cross-disciplinary research. The centers, institutes, and labs devoted to the fast-growing fields of robotics, computational medicine, and language and speech processing are housed here. But in addition to that, I believe the building makes an even more important statement about the school's long-standing commitment to pushing the boundaries of every discipline in engineering, producing groundbreaking research, and educating students in ways that effect positive change in the world.
On the building's ground floor, across from the robotics high bay (one of the most technologically advanced and largest robotics research spaces in the world), is a 60-foot- long multimedia display (see above right) that offers an absorbing snapshot of the school's strengths, breadth, and history.
As I walked by earlier this week, a video of Abel Wolman '13 appeared on one of the plasma screens. It occurred to me that his vision from almost a century ago—the importance of providing clean drinking water to the world—and the role Hopkins Engineering could play
in improving health and society, remain integral elements of the school's vision today. Moving along the display, I was struck by how its many examples of faculty, student, and alumni research and accomplishments provide evidence of this commitment. Examples range from a highly advanced "feeling" prosthetic hand and videos that show WSE's important contributions to robots being developed for deep underwater exploration, to plaques that honor significant alumni discoveries over the years and the school's historic milestones. I encourage you to visit and see for yourself.
Sincerely,
Nicholas P. Jones
Dean, Whiting School of Engineering