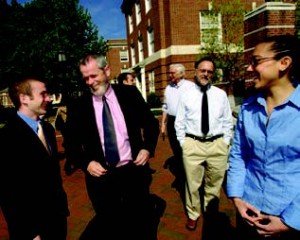 At the Engineering Deans Institute Conference I attended in April, one of the presenters spoke on a subject that is not only of great interest to me, but is at the heart of most discussions regarding the future of engineering in the United States: technical and scientific literacy.
Specifically, how can we encourage elementary through high school students to want to study science, technology, engineering, and mathematics (STEM)? Furthermore, how can we expect students to improve their knowledge in these areas when STEM fields are already underrepresented in our nation's curricula?
While the number of jobs in the U.S. that require an education in these disciplines has grown at more than four times the rate of the labor force as a whole, we've also seen lagging SAT scores and a steady decline in the number of degrees awarded in STEM fields nationwide. At the same time, outsourcing to foreign countries and the need to remain competitive in the global marketplace increase.
As a father and an educator, it strikes me that encouraging our young people to be curious about science and technology is the best way to ensure a new generation of engineers and innovators.
A colleague mentioned to me recently that she'd bet most children's first exposure to engineering occurs when they read Mike Mulligan and His Steam Shovel. I told her that, sadly, that may also be their last.
It is clear that if we're to inspire young people to enter STEM fields and create a national pipeline of innovative thinkers, we need to engage students between the time they're reading about Mike Mulligan and making their college choices.
And to do this, we could use your help. While the Whiting School already offers a number of outreach and mentoring programs to high school students, there's a lot more we can do to ignite the curiosity of our children and reverse the trend of diminishing interest in STEM careers.
Our alumni and friends are well-positioned to inspire a new generation of young people to become engineers. For example, the next time you consider volunteering in your community, think about judging a science fair or hosting a tour of your workplace for elementary school students. You could speak to middle school students at a career day or provide an internship or summer job to a promising high school student. If you want additional suggestions about how to assist with this effort, please call our alumni office at (410) 516-8723 and they'd be happy to help connect you with opportunities.
We have many dedicated friends and alumni who already help the Whiting School immensely by providing scholarship support and internships and volunteer as ambassadors for the school. With your help, we can help secure not only the school's strengths but also the future strength of science and technology in our nation.
Many thanks for all that you do.
Sincerely,
Nicholas P. Jones
Dean, Whiting School of Engineering