Every time Professor K.T. Ramesh fires one of the guns in his laboratory, it costs $3,000. The guns are four feet long and two inches in diameter, with a target chamber that is three feet in diameter. They shoot specially designed 300-gram projectiles, made by Ramesh, at up to 300 meters per second, into targets just a couple of millimeters thick. Using the fastest camera in the country, he can snap photos of the collision 100 million times per second. "We try to understand those first few microseconds," he says, "and from there we can calculate everything else."
Professor of mechanical engineering K.T. Ramesh is changing the way scientists think about fragmentation, through research that could shed new light on everything from missile defense to interplanetary collisions.
Everything else, in this case, is the precise pattern of material fragmentation after collision— the Holy Grail in understanding asteroid impact, designing bullet-proof army tanks, or even thwarting an incoming missile. In recent months, Ramesh and his colleagues have refined fragmentation models that hadn't been updated in 25 years, which of course has much appeal to the U.S. military. (Ramesh has been funded by, among others, the Army Research Laboratory, the Office of Naval Research, and the Missile Defense Agency.) But Ramesh shuns the classified details and concentrates on the basic underlying mechanics. For regardless of the application, he says, "the fundamental science is the same—it's all about impact."
Ramesh, who is director of the school's Center for Advanced Metallic and Ceramic Systems, is interested in dynamic failure, as opposed to the static failure that has been studied extensively for decades. "Static is when you drop a plate on the floor, and you ask if and how it breaks," he explains. That depends on the way a few cracks propagate through the plate. "But if you have a piece of armor plate that's trying to stop a bullet, you have a very different problem."
Unlike a plate dropping on the floor, a colossal amount of energy goes into a dynamic collision, he says, "so that you always end up with lots of cracks, all talking to each other. And it turns out the strength of the material determines the way they communicate and the way they fly. The end result of all the cracks is usually a powder."

Understanding dynamic failure is thus vital to missile defense. "Say you have an incoming missile, and you launch something to take care of it," Ramesh explains. The collision would produce a flash of light, followed by a debris cloud—the "powder" caused by those talking cracks. But the enemy might release a decoy "powder" to make you think it's been hit. "So the question is," Ramesh says, "how do you know if you've actually hit it?" But nobody has [unclassified] data showing how debris clouds form after a missile collision. So instead, they use data from crashes occurring a bit higher in the sky. "It turns out," he says, "that this is exactly the same thing you have during interplanetary collisions."
"Most asteroids have been bumping into each other for about 4 billion years," Ramesh says, making them ideal models for studying cracks. Scientists can "see" these cracks by actually going to the asteroid to take pictures—as the Johns Hopkins Applied Physics Laboratory did in 2001 when the Near Earth Asteroid Rendezvous (NEAR) mission traveled to the asteroid Eros.
More recently, scientists have actually watched a live interplanetary collision. In the summer of 2005, NASA's Deep Impact spacecraft thrust a large probe—the "impactor"— onto the comet Tempel 1 and stood back to see what would happen. The images sent back to Earth showed a huge explosion, and observers were able to estimate the size of the particles that made up the subsequent debris cloud. "And on the basis of that particle size," Ramesh says, "then you can say something about what the comet is made of."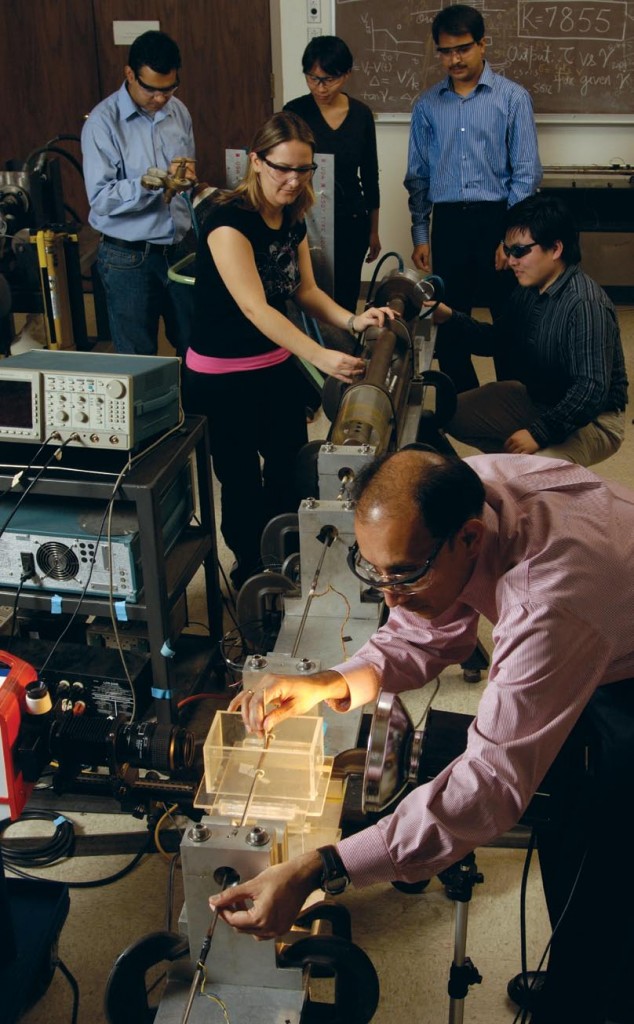 Ramesh doesn't know, and doesn't want to know, the exact material properties of missiles. "As soon as people say what exactly is in the missile, what specific materials are used," he says, "we don't get involved." Instead, Ramesh performs his collision experiments on model materials "that I think are representative of an entire class." Titanium, for instance, behaves in the same way as all other hexagonally close-packed metals; aluminum like all other face-centered cubic metals. Ramesh's lab measures the properties of titanium, or aluminum, under different impact conditions, and then publishes models that calculate the kinds of debris clouds the collisions would form. "And then," he says, "the people in the missile defense agency can apply our theories however they wish. "I never try to generate the [full-scale] impact event," Ramesh says. "It's too dangerous, and not science to me." That part gets done in huge national laboratories, like the National Ignition Facility (NIF) at Lawrence Livermore National Laboratories. In the last decade, Ramesh says, the NIF has put "a huge chunk of money"—about $14 billion—into making a laser as big as two football fields. "They take all that energy," he explains, "and dump it into a little pellet of hydrogen. They generate the same kinds of conditions that you might have in a nuclear explosion."

Ramesh's lab, in contrast, simulates only small parts of the high-energy event. "We try to get a controlled event, where we know the energy density, the strain rates, the pressure. We can measure all of that on a smaller scale, and then run a computer simulation, and then create models of the full-scale events."
This year, Ramesh published a paper in the International Journal of Fracture that updates the old models of material fragmentation. "Although that work was great when it was done," he says, "we know a great deal more now." Ramesh's research showed that the old models, for instance, overestimated the size of cloud debris particles by a factor of almost five. "I think it will really change the way people think about fragmentation."
"I've got a strange lab," Ramesh admits. And one whose results matter to astrobiologists and military strategists alike. "But," he says lightheartedly, "the reason we do this stuff is because we have so much fun with the science."