In the Computational Sciences and Engineering Building, a multidisciplinary exploration will take on smart robotics, massive data crunching, and more.
RIGHT NOW, the next launch pad for groundbreaking research at the Whiting School of Engineering looks like nothing more than a chaotic construction site. However, in the fall of 2007, a new kind of building will rise out of the "big dig" on the emerging Alonzo G. and Virginia G. Decker Quadrangle. The Computational Sciences and Engineering (CSE) Building makes an important departure from how research usually is conducted at the Homewood campus. Notes Marc Donohue, associate dean for research at the Whiting School, extraordinary activities will be taking place inside.
"The CSE Building marks a new paradigm for how research will be done," says Donohue, "not just in Engineering, but across the entire Johns Hopkins University." Donohue's statement is no exaggeration. Unlike previous buildings at Homewood that have been constructed to serve a single academic discipline, this $36-million state-of-the-art facility will dedicate all of its 79,000 square feet to an entirely new approach. It will serve as a creative staging ground for high-level interdisciplinary projects by some of the University's most innovative researchers in computational medicine, robotics, and computer-integrated surgery. With the expected presence of several research centers that share overlapping methodologies, this highly dynamic, collaborative environment will enable researchers from a range of backgrounds to team up in solving problems of common interest.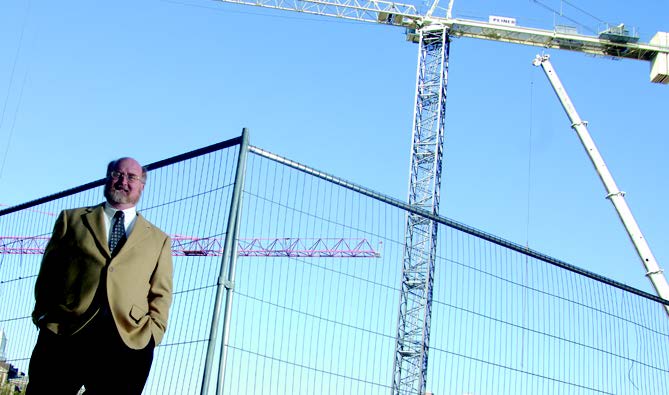 "The CSE Building marks a new paradigm for how research will be done, not just in Engineering, but across the entire Johns Hopkins University." MARC DONOHUE
"This paradigm shift in academia is starting to pick up speed," Donohue asserts. "What we're now seeing is faculty being clustered by interdisciplinary research areas, or by transdisciplinary groups (spanning multiple disciplines), as opposed to departments. This change in spatial location will change the way our academic culture evolves."
"A Culture of Collaboration"
As the CSE Building takes shape, its potential impact as a center for transformative research is drawing enthusiastic support from all levels of leadership at Hopkins.
"This new building is not just an exciting advance for the Homewood campus, but represents, I think, the future of all of higher education," says William R. Brody, president of Johns Hopkins. "It used to be that research was done by single scientists in individual laboratories. But a remarkable transformation has occurred in a very short time, and we have entered the age of interdisciplinary collaboration, not just among departments or even schools and divisions, but now among scientists at different locations around the world."
Adds Brody, "The Computational Sciences and Engineering Building puts this new approach to research at the core of its design. It's the bricks-and-mortar response to the research agenda of the 21st century."
Of course, the inspiration for the CSE Building was not born in a vacuum. As Murray B. Sachs, who is the Massey Professor and director of the Whiting School's Department of Biomedical Engineering, points out, Hopkins has long encouraged what he calls "a culture of collaboration" among its academic and research faculty. In particular, Sachs refers to more than 40 years of collaborative engagements between Engineering and the Johns Hopkins School of Medicine. It started with the establishment of the Department of Biomedical Engineering in 1962, the oldest department of its kind in the United States, and led to the founding of the Whitaker Biomedical Engineering Institute in 1999, of which Sachs is the director.
Nicholas P. Jones, dean of the Whiting School, views the new building as a tangible expression of an interdisciplinary undercurrent already at work. "The Whiting School of Engineering is an interesting mix of expertise and disciplines," he says. "While there are nine academic departments, there are twice that many research centers and institutes. This is indicative of the fact that the School's faculty and students frequently cross boundaries and work collaboratively to approach and solve problems in new ways."
Edward D. Miller, the Frances Watt Baker, M.D. and Lenox D. Baker Jr., M.D. Dean of the Medical Faculty and CEO of Johns Hopkins Medicine, believes the "unique linkage" between Medicine and Engineering at Hopkins can only lead to greater shared breakthroughs. "We have a significant advantage at Hopkins," notes Miller, " through this huge clinical laboratory called the Johns Hopkins Hospital with all of its facilities, a superb clinical faculty, and a great research faculty. By combining those with their counterparts in Engineering, we will be able to make discoveries that few other places can make."
At the Heart of the "New Medicine"
The growing interdisciplinary ties between the fields of medicine and engineering will be especially evident in one of the CSE Building's major occupants, the Institute for Computational Medicine (ICM). Founded in 2005, the ICM brings together leading Hopkins investigators on a single mission—to employ theoretical and computational technologies to reveal the causes of some of the major diseases afflicting the world today.
The new discipline of computational medicine blends engineering, mathematics, computational sciences, and biomedical research into a dynamic field of exploration. Raimond L. Winslow, director of the ICM, and others have called it "the new medicine."
In less than a year, the ICM already has created significant collaborative partnerships with the School of Medicine, focused on achieving a better understanding of the origins and treatment of diseases such as heart failure and cancer. Much of this interdisciplinary methodology involves computational theory and analysis in crunching and organizing huge amounts of data related to the human body's submolecular structures and processes.
Through the development of advanced approaches and techniques for managing and modeling biomedical data, ICM researchers hope to provide a new and accelerated path for confronting major human ailments. They seek to understand their causes, provide earlier diagnoses, and ultimately discover new approaches for disease treatment.
"What has emerged from this collaboration is a research institute with a vision that goes beyond the sum of its parts," says Winslow. "As the first and largest research institute of its kind in the country, the ICM will apply its advanced discipline to a range of investigations, all of which focus on real-world health applications."
"It's really key to have a space where you can bring a group together and interact with your peers and students in the same room." RAIMOND L. WINSLOW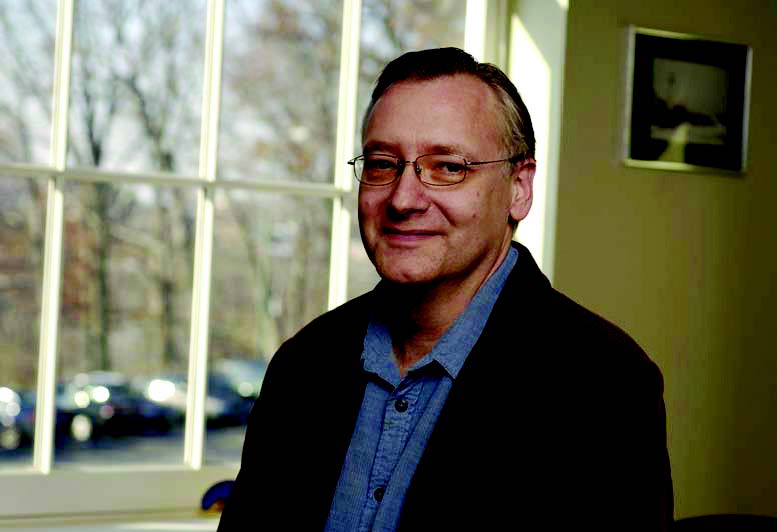 New Space, New Talent
The CSE Building will provide space for the ICM's faculty and staff offices and for teaching. "The primary importance of the new building for us is that it allows us to recruit two new faculty members and have our faculty work together in a single space," says Winslow. He is also a professor of Electrical and Computer Engineering and associate director of the Whitaker Biomedical Engineering Institute in Clark Hall, which is across the way from the CSE Building site. Adds Winslow, "It's really key to have a space where you can bring a group together and interact with your peers and students in the same room."
Troy Anderson, a Biomedical Engineering graduate student who works with Winslow, echoes this view. "Hiring new faculty brings in a lot of expertise from different areas," says Anderson. "It's going to be great having fresh perspectives from different fields, with all of us together working on similar problems."
In 2003, Hopkins was one of the first two institutions to receive an IBM Life Sciences Institutes of Innovation award, a global initiative recognizing academic research institutions for their outstanding contributions in life sciences. Leveraging its close research relationship with IBM, the ICM will operate high-performance computing and information storage labs. "Thanks to major equipment grants from IBM," says Winslow, "it is fair to say that we are a very major high-performance computing resource, clearly the most significant resource within the University."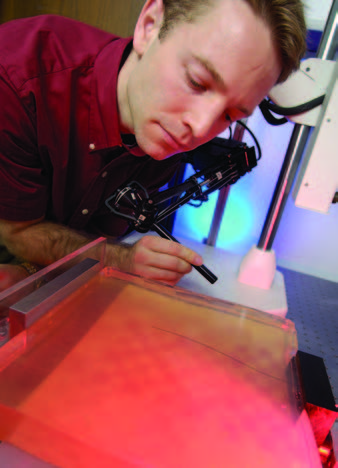 (Left) Robert J. Webster III '04 MS guides a needle through artificial tissue, using a needle steering robot he designed. When a surgeon inserts a traditional needle into soft tissue, the tip can bend and miss the tumor or other target. This new robot can steer a flexible, beveltipped needle inside tissue in order to improve targeting accuracy and reach areas inaccessible by straight trajectories. Webster, a PhD student in Mechanical Engineering, works with Mechanical Engineering professors Allison M. Okamura and Noah J. Cowan. In the CSE Building, robotics researchers will be able to collaborate in much closer proximity. (Right) Meanwhile, in her Haptic Exploration Lab in Latrobe Hall, Okamura demonstrates her research group's scissor-based surgical simulator. The haptic scissors she holds interact with a virtual environment to train surgeons on what tissue will "feel" like when they cut through it. To learn more about both robots and many others, visit www.haptics.me.jhu.edu.
"The CSE Building really is going to allow us to exploit all of the synergies that at the moment remain untapped simply because we have physical distance between us."GREGORY D. HAGER
Achieving Critical Mass in Robotics Leadership
"When I first came to Hopkins 10 years ago," recalls Russell H. Taylor '70, who is a professor in the Whiting School's Department of Computer Science, "what was immediately striking to me was the collaborative nature of the environment, especially among Engineering faculty involved in robotics." With his background in robotics and automation technology research, Taylor in 1998 helped found the Engineering Research Center for Computer- Integrated Surgical Systems and Technology (ERC CISST), with seed money from the National Science Foundation. This center, which he directs, in turn has enabled additional faculty to be hired. "These hires gave us a critical mass," says Taylor. "We realized that we were within range of becoming one of the top three robotics and computer vision groups in the country."
According to one of those faculty hires, Gregory D. Hager, now a professor of Computer Science, "What has given robotics a huge amount of strength here at Hopkins is that it is not a single department but a highly interdisciplinary, multi-departmental activity, representing faculty from the departments of Mechanical Engineering, Computer Science, Applied Mathematics and Statistics, Biomedical Engineering, and more. That's allowed us to spread faculty around and have a web of closely allied interests without loading up a single department." Hager's own research interests are in vision, robotics, human-machine systems, and computer-assisted surgery.
Moving robotics into the CSE Building will take that group's productive research to a new level, Hager believes. "Up until now, we have been very distributed as a group, with laboratories in three or four buildings," he says. "The CSE Building really is going to allow us to exploit all of the synergies that at the moment remain untapped simply because we have physical distance between us."
The new robotics presence in the CSE Building will be known as the Laboratory for Computational Sensing and Robotics (LCSR). The lab's scope of research will include such areas as:
robotics for health care and biomedical research, which incorporates robot-assisted surgery, medical image analysis, surgical planning and simulation, and biomedical instrumentation;
autonomous systems for safety and surveillance, where the development of sophisticated sensors, artificial intelligence, and dynamic modeling could well lead to self-directed robots able to enter hazardous and remote environments; and
human-machine interaction, which seeks to create intuitive systems that combine the strengths of human operators, such as intelligence and high-level decision-making, with the accuracy and precision of robots.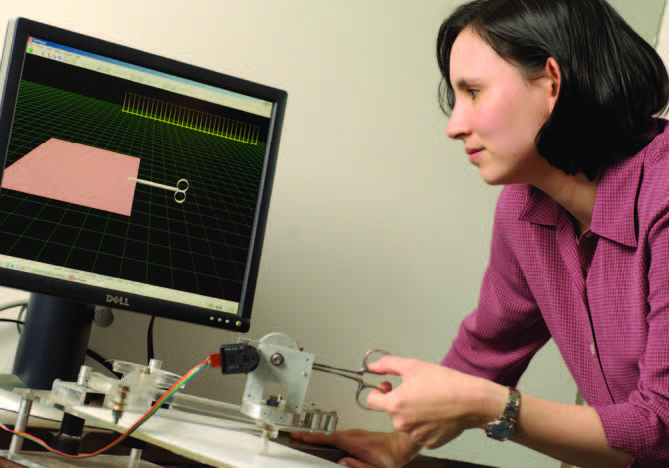 Transcending Old Disciplines
To accelerate such research, LCSR investigators and students will make use of a new state-of-the-art facility to be located in the CSE Building. This lab will house many of its collaborative projects and create new synergetic educational and research opportunities that would not exist within the classical "one investigator, one laboratory" approach to science and engineering. In doing so, this new lab also will facilitate the training of a new generation of engineers who are able to transcend the boundaries of traditional disciplines.
The new lab is organized around a central two-story open bay. On the first floor, around the sides of the central lab area, will be a dozen smaller enclosed research "pods" where focused investigations and training will take place. The second floor of this innovative lab will provide a theater-style view of lab activities below. Ringing the open bay will be offices for faculty, staff, and students.
"Having this kind of environment with a range of faculty who share interests and can network together, and more importantly, have their students network together, is crucial for success," says Taylor. "It's how the sparks get generated."
Taylor also notes that the concentration of talent to be established will enable the LCSR to tackle and manage computational sensing and robotics projects that were previously out of reach. "As we're trying to move forward with larger grants and proposals, having the leverage of this collaborative community to attack larger complex problems quickly is going to make a huge difference," he notes. "It will also make our collaborations with industry and the School of Medicine much more effective."
Taylor adds, "To accomplish these sorts of goals, you need an engineering infrastructure that you can only get by putting people together. With the new LCSR, we'll get it."
To learn more about the new Computational Sciences and Engineering Building, visit engineering.jhu.edu/~cse-building/introduction.
For more information about the Institute for Computational Medicine, visit www.icm.jhu.edu.
Follow the progress of the "big dig" on webcams at www.fm.jhu.edu/ projects/decker.html.