Undergraduate entrepreneurs collaborated on designing a non-invasive kidney test and on developing a business plan for it.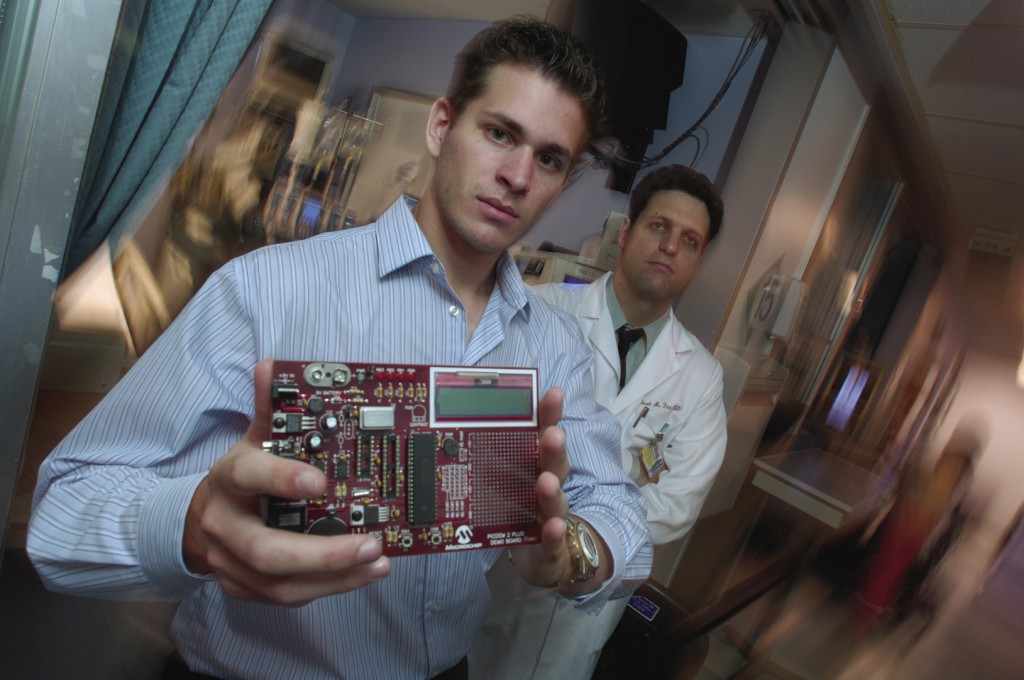 DETECTED EARLY, kidney failure can be reversed. But the existing blood-based testing can take 24 to 48 hours—a dangerously long time. To reduce that time significantly for patients in intensive care, two undergraduates in the Whiting School of Engineering collaborated on the design of a unique and highly promising device. Richard Boyer '07 is double majoring in Biomedical Engineering (BME) and Electrical and Computer Engineering, and is a student assistant in the Pulmonary Physiology Laboratory at the Johns Hopkins School of Medicine. Chris Komanski '07 is a BME major. Their approach to addressing the problem of acute renal failure (ARF) combined Boyer's interest in wireless embedded systems with Komanski's knowledge of optics.
In high school, Komanski devoted more than 2,000 hours to researching a prototype non-invasive urinalysis machine at the University of Central Florida's Center for Education and Research in Optics and Lasers. Winner of 21 science fairs, Komanski was named the first Ying Scholar, and Hopkins awarded him a Bloomberg Scholarship.
As freshmen, Boyer and Komanski were part of the BME Design Team, a yearlong course, where they explored real-time urinalysis to detect ARF. They were mentored by Seth Townsend '04, at the time a senior. The team was directed by Robert Allen, associate research professor in the Whiting School, and advised by Johns Hopkins Medicine nephrologist Derek M. Fine. Townsend, a BME major who had no research experience before coming to Hopkins, as a senior was named to the second team of USA Today's 2004 All- USA Academic Team and is now a graduate student at MIT.
Kidney function can be seriously impaired by a number of medical conditions and their treatments, from heart failure to sepsis, diuretics to chemotherapy. It's estimated that 8 to 10 percent of intensive care patients experience ARF, and about 30,000 die from it in the United States every year. In the early stages of ARF, telltale bio-markers show up in the patient's urine.
Boyer and Komanski realized that a non-invasive, noncontaminating way to look for these markers could be effective. They came up with a wireless urinalysis device that "looks" at urine as it passes through a catheter and does a spectroscopic analysis. By detecting the markers in an hour or less, this technology makes it possible to adjust medications and otherwise reverse the lethal progression of ARF.
The project was funded by the National Kidney Foundation and endorsed by the National Institutes of Health. Along with co-inventors Townsend and Fine, Boyer and Komanski have filed a provisional patent, developed a business plan, and formed a corporation called Renal Diagnostic, Inc. They expect to begin a pilot study soon, followed by clinical trials at Hopkins.
Speaking about his experience as an Engineering student, Boyer says, "It gives you a real challenge if you're looking for one, and helps you find your niche." Komanski is grateful for the style of mentoring he has received at the Whiting School. "They let me answer my own questions," he says.
Both students wasted no time in coming up with good answers.