To encourage young people to become more curious about science, technology, engineering, and math, Leigh R. Abts knows you have to let them tinker. He began by inviting their teachers into the Whiting School's labs.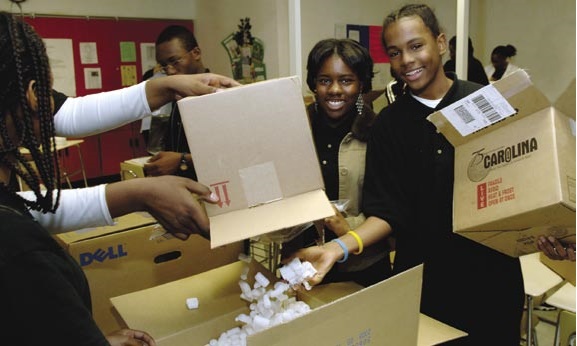 Ninety slides detailing every step for skinning a deer. Not exactly the lesson plan that the Whiting School of Engineering graduate students expected during orientation this past summer as Fellows for BIGSTEP. A new initiative by the Whiting School's Center for Educational Outreach (CEO), BIGSTEP stands for the Broader Impact for Graduate Students Transferring Engineering Principles.
The slides were part of the standard middle school lesson plan for the Chippewa tribe in Minnesota. During this academic year, the eight Whiting School students selected as the inaugural BIGSTEP Fellows are working with underserved K-12 classrooms at the White Earth and Leech Lake Tribal Reservation schools in Minnesota, as well as in inner-city Baltimore and Baltimore County.
Each BIGSTEP Fellow is designing an environmentally themed classroom project based on his or her research and the school's curriculum. The teaching fellows are all advanced graduate students in the Whiting School's Department of Geography and Environmental Engineering. The lesson plan on skinning a deer happened to be exactly at the intersection of scientific innovation and cultural tradition that Leigh R. Abts had envisioned. "The deer slides were something none of our students were prepared for, and it made them aware that there are different cultures in this country," says Abts, who is deputy director of the CEO. Abts also is principal research scientist with the Whiting School's Department of Computer Science.
"If we've convinced kids to take one more math and science course, then we've succeeded." Leigh R. Abts, Deputy Director of the Whiting School's Center for Educational Outreach
With each CEO program or partnership, Abts sees its ultimate goal as engineering, math, and science literacy, not training. "Our idea is not to make every kid an engineer," he notes. "If we've convinced kids to take one more math and science course, then we've succeeded."
The idea behind BIGSTEP—and the new center itself—grew out of Abts' previous role as executive director of the Whiting School's Engineering Research Center, as well as his interest in enhancing the educational outreach component of its faculty grants funded by the National Science Foundation (NSF). In summer 2001, after brainstorming with the NSF about better ways to reach K-12 students, Abts gathered 26 teachers to give them a chance to work in Hopkins labs with faculty from the Whiting School and eight other universities. The experiment was a hit: Teachers had leading-edge research to take back to the classroom, while faculty easily and meaningfully met NSF outreach requirements.
The NSF was impressed—so much so, that in 2002, it invited Abts to apply for approximately $500,000 to sponsor more teachers. Since then, the summer Research Experiences for Teachers (RET) initiative has provided hands-on training for 150 teachers regionally through its partnership with Howard Community College. Meanwhile, the Whiting School's summer research model has been replicated nationally: Nearly 500 teachers and 150 researchers have participated in similar programs at universities across the country. In 2002, Abts and the Engineering Research Center developed a project to bring Native American teachers to campus.
By 2003, these outreach efforts had become so big that Abts— with Hopkins' blessing and NSF funding—founded the CEO. In addition to working with Whiting School faculty to create outreach programs based on individual research grants, this new center sponsors a three-credit engineering course for Montgomery County high school students and a "What Is Engineering" fair for inner-city students.
A program Abts created for Hopkins and Carnegie Mellon University gave 26 Pittsburgh teachers hands-on experience in building robotics systems. Last spring in Baltimore, Darlene Malat, who has been teaching high school for 30 years, applied what she had learned in the Whiting School's RET summer program to write a grant proposal. That gained her NSF funds to equip her classroom with computers and Probeware to gather and analyze data in science, math, and technology classes. "This equipment will allow our students to get back to what science is all about—discovery," Malat noted in an article in The JHU Gazette.
This year, the CEO added a program in conjunction with the National Inventors Hall of Fame to mentor budding, underserved student inventors from Baltimore and Washington, D.C.
The CEO also manages the initiatives of Strategies for Engineering Education K-16 (SEEK-16), a grassroots, Baltimorebased initiative "to foster universal student literacy" in science, technology, engineering, and mathematics (known as STEM education). Last February in Washington, D.C., SEEK-16 sponsored a national summit that attracted 200 cultural, scientific, educational, and industry leaders.
Among the STEM education initiatives, the Whiting School's new center is leading a committee of experts in developing an Engineering Advanced Placement course for high-school students. These experts come from universities, among them Carnegie Mellon, Tufts, and Vanderbilt, and institutions such as the National Federation of the Blind. The Energy Bill, passed by Congress and signed into law in August, includes another important initiative: a SEEK-16 pilot program in science and engineering education.
Abts is perfectly suited to encouraging STEM education. He has a doctorate from Brown University in biomedical engineering and a career in company start-ups, including the Hopkins venture capital fund and FutureHealth, a patient risk management care company.
"This is more meaningful than any start-up I've ever done," Abts says. "Children are the greatest return on our investment. We are going to become a Third-World country in science and math education in a few years if we don't start addressing this. The CEO helps to provide national leadership and brings people together around ideas and themes. Plus, it's Hopkins. We need to take a leadership role."
That role takes Abts to Congress; he serves on the national STEMEd Caucus Steering Committee, which advises both the U.S. House of Representatives and the U.S. Senate.
Already, Abts and the Whiting School's CEO are gaining attention nationally. Mary F. Poats, program manager for the NSF's Division of Engineering Education and Centers, noted that as other nations become more developed, "It is more important than ever for the U.S. to attract the best and brightest of our young people into engineering studies," especially youngsters from underrepresented groups. The CEO "has been pursuing excellent and innovative K-16 programs aimed at doing just that," Poats stated. Under Abts "strong leadership," she added, this new center "is beginning to have a positive impact on bringing together the various learning communities to accomplish this goal."
Contact Leigh R. Abts at [email protected].