The Decker Quadrangle project will open the portal for a potential revolution in interdisciplinary engineering research—and welcome visitors to campus.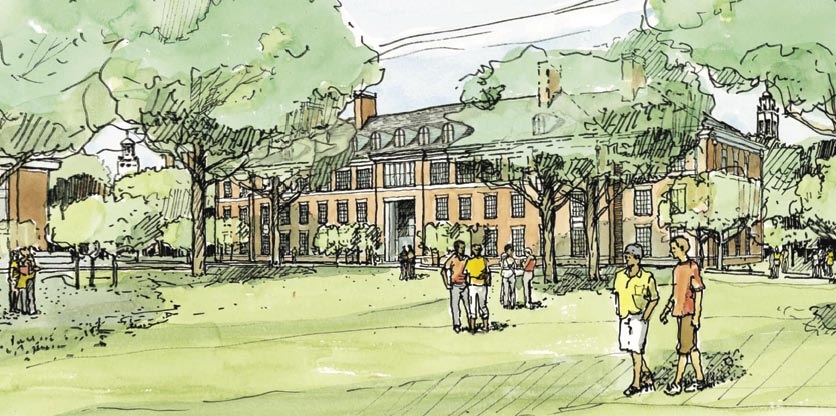 The Homewood campus Big Dig has begun—three stories straight down, to be exact. Within the next two years or so, this massive development project under way will reconfigure the entire physical approach to the campus while providing an extraordinary new facility for the Whiting School of Engineering.
When fully completed in 2007, the Alonzo G. and Virginia G. Decker Quadrangle and its associated buildings will fulfill the latest major development of the Homewood campus. Decker Quadrangle, south of Garland Hall, will complete a chain of four quadrangles that runs from north to south on campus. In brief, the major features of the big dig include:
The new Decker Quadrangle, providing an open space for informal student recreation and University events;
the Computational Sciences and Engineering (CSE) Building, an innovative 79,000-square-foot facility that will foster collaborative research among faculty in several departments of the Whiting School, the School of Medicine, and other divisions;
a 28,000 square-foot Johns Hopkins University Visitor Center, serving as the formal "front door" and point of orientation to the University, welcoming prospective students, alumni, and visitors;
a 604-vehicle underground parking garage, located under the Decker Quadrangle, offering three levels of parking with convenient access for visitors, students, staff, and faculty.
The Decker Quadrangle was so named in June by the University's Board of Trustees to honor the Deckers. Alonzo Decker Jr., who died in 2002, was the longtime chairman and CEO of Black & Decker Corp. He was a Johns Hopkins trustee and presidential counselor for more than 30 years. Virginia G. Decker served on the Advisory Council of the School of Professional Studies in Business and Education. The couple generously had given Johns Hopkins their home and property on Maryland's Eastern Shore; proceeds from the sale are funding the construction of the Decker Quadrangle.
According to William R. Brody, president of Johns Hopkins, "The development of this important new quadrangle as the southern gateway to Homewood is a perfect opportunity for us to honor the Deckers and their commitment to Johns Hopkins. Just as Al and Virginia have helped advance the university on so many fronts, the Decker Quadrangle will help build our future in undergraduate education, interdisciplinary research, service to the community and our alumni community, and areas as yet uncharted."
A Launch Pad: the CSE Building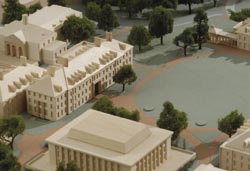 For Marc Donohue, associate dean for research at the Whiting School, the new Computational Sciences and Engineering Building (CSE) is a groundbreaking concept that's long overdue.
"The Whiting School has grown significantly over the last 25 years from a faculty of 44 to more than 115, along with another 100 permanent research staff," he says, "Overall, we've almost tripled in size in 25 years. But with only two new buildings constructed during that same period, our physical plant has not kept pace, resulting in our departments being dispersed."
This two-story, state-of-the-art Computational Sciences facility will provide an immediate solution to the Whiting School's space crunch—and much more. It is ideally sited on the east side of the new Decker Quadrangle, opposite Clark Hall, the School's Biomedical Engineering building. The CSE Building, a $36-million research and training facility, also marks a clear departure from the tradition of committing buildings to a single discipline. It is designed to accommodate several research centers that, while having different missions, share computational methodologies in their work. The anticipated result will be a highly dynamic, interdisciplinary environment in which researchers from a variety of backgrounds, both within the Whiting School and from other Hopkins divisions as well as industry, can work together to solve problems of common interest.
Nicholas P. Jones, dean of the Whiting School, sees an enormous potential for innovative leadership through this new research paradigm. "The new Computational Sciences and Engineering Building offers an exciting opportunity to strengthen our commitment to multidisciplinary research and education, as well as our already-strong ties to medicine and the life sciences," Jones notes.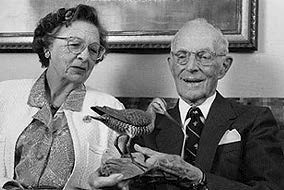 As Donohue observes, the CSE Building "is a new vision, but it reflects a reality that already is happening in the Whiting School. Today, half of our research is being done in collaborative centers and institutes, as opposed to 10 percent several years ago. In just the last seven years, research funding at the Whiting School has doubled, primarily because of this growth of our collaborative research efforts."
Louis L. Whitcomb, professor of Mechanical Engineering with a joint appointment in Computer Science, is clearly excited by the building's new Interdisciplinary Robotics Laboratory. "It will be the physical embodiment of interdepartmental collaboration that's been at the core of robotics research at Hopkins for 10 years," he says. "As a result, we'll be able to take on much larger 'big engineering' projects that we haven't been able to consider before."
As director of the new Institute for Computational Medicine, Raimond L. Winslow is looking forward to his research group's presence in the new facility. "Our mission is to bring to bear methods from mathematics, engineering, and computer science to better understand the cause and treatment of human disease," he says, "so mathematics and computation are the very underpinnings of what our group will do in the building. I see the CSE Building serving as a launch pad for our Institute's exploration and growth." Winslow also is a professor of Electrical and Computer Engineering and associate director of the Whitaker Biomedical Engineering Institute in Clark Hall.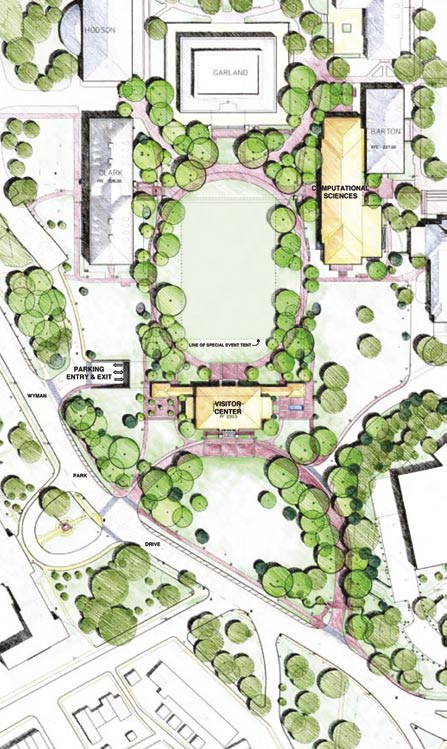 A Front Door: the Visitor Center
"The Homewood campus is such a beautiful place, but what has been missing for so many years is a formal introduction for visitors. The new quad and Visitor Center will create a welcoming atmosphere for newcomers as well as those who are returning," noted Mark E. Rubenstein '62, '67 M.S.E., who majored in Mechanical Engineering. A Hopkins trustee, he chairs the trustees' Committee on Buildings and Grounds and also is a member of the Whiting School's National Advisory Council.
As Burger notes about the Visitor Center, "I've worked here 12 years, and I'm still trying to figure out just what is 3400 North Charles Street. I think the ability to direct people to a starting point to begin their exploration of the University is a wonderful opportunity that we will gain."
Scheduled to open in 2007, the Visitor Center will serve a variety of needs—and audiences. While housing admissions and other administrative offices, the Visitor Center also will provide the initial point of contact and information for prospective students and visitors alike. It will include a library stocked with books by Hopkins authors, a gallery space that can be used for receptions, an auditorium for group sessions and lectures, and a boardroom for alumni functions. Rick M. Carr '78, president of the Johns Hopkins Alumni Association's Alumni Council, notes, "The new boardroom is an important feature for our alumni committees, which have not had a formal meeting place up to this point." Carr, who is managing director and executive search consultant for Wachovia's Corporate and Investment Bank, says the Visitor Center is a sure bet to become popular. "For alumni, the Visitor Center will take on a special meaning as it provides additional services," he notes.
A good deal of attention has been given to the design of the Visitor Center's exhibit space and how best to introduce the University to students, Burger points out. "We want to take advantage of all aspects of the experience to reinforce the message about how we would like to be perceived," she says. Planned exhibits will tell the Hopkins story not just for recruitment purposes, but with the broader intention of introducing the University to those who are interested in learning more.
The sitting area will offer a "living room" feel, complete with fireplace, comfortable decor, and contemporary photos of Hopkins students and campus scenes. Visitors will be able to watch videos about various aspects of the University. The sitting area reflects a conscious decision to make the Visitor Center feel more home-like, says Burger. "With the advantage of being a relatively small research university, we want to underscore for prospective students how personalized a Hopkins education can be."
"The new quad and Visitor Center will create a welcoming atmosphere for newcomers as well as those who are returning."Mark E. Rubenstein '62, '67 M.S.E., Hopkins trustee and member of the Whiting School's National Advisory Council
Where the Next Revolution Begins
When that big dig is done and Decker Quadrangle's facilities open their doors, what will be revealed is a remarkable portal— for visitors, students, alumni, and faculty. As the Web site for the CSE Building predicts, "A decade from now, this building will be looked upon as the place where the next revolution in interdisciplinary research began."
See the progress at the construction site via a live video-feed and learn more about this new Whiting School facility at engineering.jhu.edu/~cse-building .