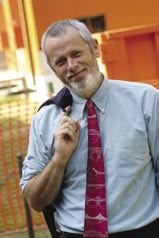 This issue of the magazine celebrates our 90/25 anniversary, in recognition of 90 years of Engineering at Johns Hopkins and 25 years as the University's first named division—the G.W.C. Whiting School of Engineering. Featured in the center section, this brief history highlights some of the amazing people and their achievements here at Hopkins.
We are also looking toward the future in this issue by featuring some of our faculty and students, as well as plans for the Whiting School. As this magazine reaches you, we are putting the finishing touches on a strategic plan for the School that is guided by our vision statement, Leadership Through Innovation. Key themes that have emerged as critical to our mission include:
continuing to build on our pre-eminence in bioengineering and the interdisciplinary research that emphasizes the connections between engineering and medicine and the life sciences;
offering an undergraduate experience that includes both research and entrepreneurial opportunities, in a diverse and inclusive environment;
providing a supportive, collaborative atmosphere that rewards innovation; and
expanding our role with respect to international and corporate programs and partnerships.
One forward-looking endeavor that everyone is excited about on campus is breaking ground this fall for the Computational Sciences and Engineering Building. It will be located in the newly named Alonzo G. and Virginia G. Decker Quadrangle, where Clark and Garland Halls currently stand. This new building makes both a philosophical and financial commitment to multidisciplinary research and education that will strengthen our ties to medicine and the life sciences. Be sure to visit our Web page to watch a live video-feed of the construction site: engineering.jhu.edu/~cse-building.
As a result of hurricanes Katrina, Rita, and Wilma, our nation's civil and environ – mental engineers face a tremendous clean-up effort. Our prayers go out to the many families, friends and colleagues who are caught in the midst of these disasters.
Sincerely,
Nicholas P. Jones
Dean, Whiting School of Engineering