The prototype fund in the Faculty Scholar Program embeds two goals of its creator, Vinod K. Agarwal '77 PhD: to honor his mentor and to recognize the contributions of a junior faculty member in the Whiting School.

One year shy of completing his electrical engineering doctorate at the University of Pittsburgh, Vinod K. Agarwal faced a difficult choice in 1975: whether or not to follow his mentor, Gerald M. "Gerry" Masson, who was leaving Pitt for the Johns Hopkins University. Changing programs at that point meant Agarwal would lose valuable time.
He decided to come to Baltimore with Masson. Ever since, from graduate student to academic researcher to global entrepreneur, Agarwal has more than caught up. After earning his PhD in 1977 at the Whiting School of Engineering, Agarwal has stayed in touch with Masson, the mentor who became a friend. Masson for many years chaired the Department of Computer Science at the Whiting School of Engineering, and now directs the Johns Hopkins University Information Security Institute.
"Professors do a lot for us, and if we can recognize that, to me that's an extremely positive step." Vinod K. Agarwal '77 PhD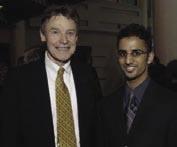 The research that Agarwal began with Masson in semiconductor testing launched a lifelong dream and led to Agarwal's founding of LogicVision, Inc. in 1992. Based in San José, California, LogicVision was the first and is still the largest commercial provider of embedded test technology, from initial design debug all through the life of a computer chip.
The dream Agarwal has lived, he notes, is the idea that from a cell phone to a satellite that isn't working right, "you extend the concept so that everything becomes self-testing. The idea of self-testing will become so essential to future designs in the multi-trillion industry of electronics worldwide."
As a young man studying electronics at India's Birla Institute of Technology and Science in Pilani, Agarwal was fascinated with how innovation changed people's lives. After coming to America to study at Pitt, he became the first graduate student Masson supervised when Masson himself was a newly minted PhD.

Thinking about Masson, Agarwal says he realizes that one reason "why there is such a strong feeling of gratitude is that like most of us who come from foreign countries," he found that a mentor could become an invaluable ally. Masson "taught me everything, including my English," Agarwal recalls. "He's just one of those amazing individuals, generous, with very little selfish motives."
After earning his doctorate, Agarwal taught briefly at Wayne State University. Then as a researcher at McGill University in Montreal, he was appointed as the Nortel/NSERC Industrial Research Chair Professor, an endowed position created for him. He published 100 technical papers and also consulted for major companies. Agarwal's research would "put McGill on the global map as the top university for excellence in research and teaching in semiconductor testing," according to siliconindia, which presented Agarwal with its leadership award for entrepreneurship in 2002. The tribute came a year after LogicVision went public, the first to do so in the unstable post-9/11 environment.
Without the endowment created to support his position at McGill, Agarwal observes, "I would have moved out," lured by another university. "It's a challenge for any academic environment with highly talented individuals," he explains. "Everyone wants them. It's a challenge to keep them continuously attracted to the institution, and the best way to do that is to keep offering them the environment that allows them to do the best they can, to make resources available, to recognize them for what they're doing."
To meet that challenge, and to provide junior faculty members with discretionary funds to invest in research, the Whiting School in June announced a new initiative, the Faculty Scholars Program, similar in purpose and structure to a professorship. Funded through private support, Faculty Scholars will be selected based on their research achievements and potential. The program will extend an incentive to stay even before tenure is granted.
Agarwal has given a gift to the Whiting School to honor his mentor. The gift establishes the first Faculty Scholar fund, the Masson-Agarwal Faculty Scholar. Agarwal encourages others to consider investing in a Faculty Scholar as a way to help junior faculty members "see Hopkins as a place to mature and grow their capabilities." He adds, "Professors do a lot for us, and if we can recognize that, to me that's an extremely positive step."
Kostos Konstantopoulos has been named as the inaugural Masson-Agarwal Faculty Scholar. Konstantopoulos is assistant professor of Chemical and Biomolecular Engineering. His research seeks to develop molecular-targeted therapies to combat cancer metastasis, thrombosis, and inflammation/infection.
Agarwal hasn't yet had a chance to meet Konstantopoulos, but says "I've heard great things about him from everybody," including from his son, Atin. A senior Economics and Political Science major, Atin is president of the Student Council at the Homewood campus. Agarwal and his wife, Sujata, have two daughters as well.
Currently, Agarwal serves as executive chairman and chief strategist of LogicVision, a company that has been "global from day one," he emphasizes. The entrepreneur's travels take him to Europe, India, China, Korea, and Japan. "I believe in working together across cultures," he notes. LogicVision's success, he affirms, offers a symbol for America that "as long as you are able to create innovation, you can still stay in competition with the world."