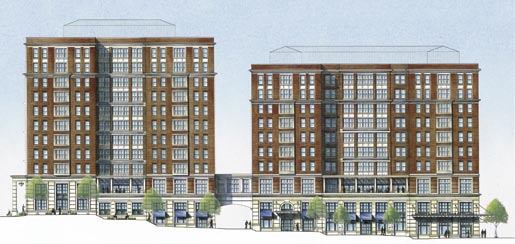 By next fall, the two-building Charles Commons, now under construction for the Homewood campus, will be providing campus housing to 30 percent more undergraduates at the Johns Hopkins University.
They'll be sipping lattes in the Barnes & Noble bookstore, two stories tall and three times as large as the one it replaces in Gilman Hall. They'll be dining with great views of Charles Village. They'll be trying to decide whether to pump iron, shoot pool, challenge friends to computer games, practice music, do laundry, cook for a group, or even study—all in special rooms. Student groups—from clubs and fraternities to cultural and volunteer groups—will be conferring in comfy lounges.
Charles Commons will house 615 undergraduates, extending the opportunity for on-campus housing—a safer option—past the sophomore year. Each suite will have a kitchenette. The four-bedroom suites and some of the two-bedroom ones will have a living room. No more than two students will need to share a bathroom. Nonresidential students, as well as faculty, will have full access to the dining and social spaces. In fact, there will be a "faculty-inresidence" apartment, and faculty are encouraged to join in the many opportunities for informal exchanges.
Thanks to Charles Commons, visitors who come to campus for residential conferences will have much better facilities. Plus, the project will offer 28,000 square feet of retail space and a branch of the Johns Hopkins Federal Credit Union. A walkway/bridge over Lovegrove Street will link its 12-story Charles Street building to its 10-story St. Paul Street building.
The common thread behind Charles Commons and other recent campus additions is stretching the fabric of student life beyond the classroom where it begins. The Ralph S. O'Connor Recreation Center quickly became the place to stay fit. The Mattin Center encouraged students to express their artistic sides. Hodson Hall elegantly incorporated interactive technology into teaching. Create the right spaces, and a community grows stronger.
Located at the corner of North Charles and 33rd streets, Charles Commons will become the entryway to a college town within Charles Village. The project's general contractor, Struever Bros. Eccles & Rouse, is known for transforming urban neighborhoods. In a separate project, the firm is redeveloping both sides of the 3200 block of St. Paul Street. This non-Hopkins project, Village Commons, will feature ground-floor retail and restaurant space, 170 condominiums, and 500 parking spaces. It also comes with the cachet of NBA superstar Earvin "Magic" Johnson, who has invested in Village Commons and took part in its September groundbreaking.
If you love to peer through construction fences, the Homewood campus is the place to be. Stop by and watch the transformation take shape at the Decker Quadrangle big dig and the Charles Commons site.
Track the progress of Charles Commons at webapps.jhu.edu/fm /webcams/CCwebcam.html.