The Class of 2002 produced a number of outstanding solutions in the Senior Design Project course. Here are three of them.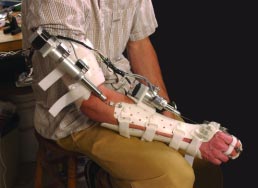 A Greater Grasp of Life
For an anonymous client, everyday life was literally moving out of reach. Suffering from an extremely rare degenerative muscle disorder called inclusion body myositis, he could still control the placement of his fingers around an object. But progressive muscle deterioration left him unable to grasp and lift even a glass of water. The man (who prefers to remain anonymous) sought help from Volunteers for Medical Engineering (VME), a nonprofit Baltimore group that uses technology to assist people with disabilities. In turn, VME sponsored a Mechanical Engineering project to help him.
The task of designing and building the device went to the team of Jonathan Hofeller, Christina Peace, and Nathaniel Young. Hofeller was a mechanical engineering major, and Peace and Young majored in biomedical engineering. The seniors researched prosthetic limbs and, taking a cue from props featured in the film "Aliens," designed a plastic exo-skeleton that could slide over the client's right hand and arm. To enable him to move his fingers and elbow, the students tested and rejected electromagnets and air pressure systems. They finally settled on two small but powerful stepper motors to move the fingers and elbow in small, slow increments, allowing him to clasp a cup firmly without crushing it. These motors did not require continuous electrical current to stay in position, thus preserving battery power. The students linked the motors to a series of cables and springs to enable the device to move the man's arm into position and help his fingers grasp and release.
The students opted for voice recognition software as an easy way for the disabled man to control the grasping device. After the software is trained to the client's voice, he will first say "arm" or "hand" to take command of one of the two motors. The elbow motor will then respond to "raise," "down," or "stop." The hand motor will respond to "open," "close," and "stop." The students hardwired the device to a control box containing a miniature computer; its two software programs turn the voice commands into signals that tell the motors how to operate the bending and grasping motions. The unit is powered by a rechargeable 12-volt lead-acid battery commonly used for remote-control model boats and airplanes. The grasping device is fully portable—the control box fits inside a small pack he can carry on his waist.
"The students did a wonderful job," observes Jan Hoffberger, executive director of Volunteers for Medical Engineering. "They came up with a very creative design for the device. We believe our client will find it very helpful." Designing and building the device helped the undergraduates to understand some of the challenges that working engineers face.
As Young adds, "In a textbook, there is always one right answer. In this project there were many different ways we could go, but once we were committed we had to go in that direction."
The Next Wave in Whitewater Protection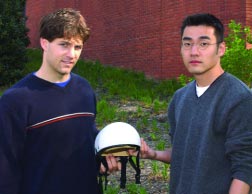 When Gil Turner lost his 22-year-old son, Lucas Brandon Turner, to a kayaking accident in 1998, his grief soon turned to action. Lucas "was an expert whitewater kayaker, but somehow he was thrown into the river," says Turner. "The force of the water pushed him head-first into a large boulder. He would have survived if his helmet had stayed in place, but it slipped backward and exposed his forehead. He sustained a fatal blow to the center of his forehead."
The tragedy led Turner to retire from his real estate development business in Park City, Utah, to found the Whitewater Research and Safety Institute. His institute co-funded the safer helmet development project with the Center for Injury Research and Policy at the Johns Hopkins' Bloomberg School of Public Health.
The job of designing a safer whitewater helmet was handed to mechanical engineering major Michael Cordeiro and Chang Lee, who was completing a dual major in biomedical engineering and engineering mechanics.
The two seniors were asked to study head injuries that occurred in whitewater sports and then design a helmet that would better absorb shocks and prevent injuries. The helmet had to be lightweight (less than 30 ounces), buoyant in water, and durable enough to survive repeated collisions with hard objects. It needed straps to hold it in place even in fast-moving water. It had to cost less than $30 per helmet to manufacture, and be comfortable and aesthetically pleasing enough to appeal to whitewater enthusiasts.
At their final presentation in the class, Cordeiro and Lee unveiled a prototype helmet that met all specs—and came in well under budget; they successfully subjected it to several tests designed to replicate whitewater conditions, using a high-pressure firehose and an impact-test apparatus they devised. Much of the helmet's protective power comes from three layers of EVA foam installed inside the shell. Each layer consists of a different density of closed-cell material, which will not absorb water. The shell is made of rugged ABS plastic. Plastic head coverings are usually produced through an expensive molding process. But Cordeiro and Lee dramatically reduced the cost of their prototype helmet by using a high-tech rapid prototyping machine, which applies the plastic in a computer-guided shape (the process resembles three-dimensional ink-jet printing). And the students did it all for $5,400.
"It was really rewarding to see it come together," says Lee. "We got what we were looking for, what we were designing for." Adds Cordeiro: "This was a research project where we actually got to see something important come out of it—a product that could save people's lives."
Currently no industry or government safety standards exist for whitewater helmets in the United States, according to Michael Ho, a Center for Injury Research and Policy staff member who monitored the students' efforts. "Our center co-sponsored this project because we wanted to show that it is possible to design and construct a helmet for whitewater use that adhered to standards that we asked the students to develop through their research."
The story of their project has been receiving widespread media coverage. An article in the Cleveland Plain Dealer noted that by January, Turner's nonprofit foundation will be manufacturing the helmets and marketing them at cost to kayakers and outfitters.
Levering Hall: A Model of Comfort
Like the Three Bears' porridge, Levering Hall was always either too hot or too cold. The 1928 building had been identified by Johnson Controls, Inc., the HVAC provider, as the most energy-wasteful building on the Homewood campus. Over the years, as additions were made to Levering, the HVAC system had become increasingly inefficient and difficult to control, resulting in highly uneven temperature zones. With its heating and cooling running through the same equipment and lines, the aging system could only be switched over twice a year. "When the system was shifted over to heating," says Tim Fialcowitz '02, "a warm day would cause people to start opening windows and doors, which would just make the heating system kick back on even higher."
Johnson Controls took the Levering dilemma to the Senior Design Project class. Fialcowitz, along with his roommates John Baker and Todd Steffens, all Mechanical Engineering majors, enthusiastically requested working on this challenge. "It was an interesting project—and a little different," recalls Fialcowitz. "Rather than a mechanical solution to a problem, we were trying to come up with an improved means to operational efficiency, so that the building would run better from a cost standpoint and a comfort standpoint." JHU's Facilities Management co-sponsored the project.
In assessing Levering, the team took a two-fold approach. The three seniors interviewed the building's tenants and its supervisor to learn more about the comfort issues. "Their opinions gave us a good starting point," says Fialcowitz. The next step was to take temperature and humidity measurements using an infrared gun in a walk-through, while placing temperature sensors around the building to track changes over several days. "We learned a lot from that data," he notes. "The building's room units were either overcooling or overheating rooms, wasting energy."
Using special software provided by Johnson Controls, the team took its collected data and generated a virtual computer model of Levering's HVAC system. This modeling allowed the team to assess the complete environment, such as heat gains and losses through windows and doors. Their model let the seniors conduct detailed analyses of the effects of possible remediation on room-by-room conditions, demonstrating how certain structural changes could enhance comfort levels. "We could see the energy savings for the building if we had all the windows replaced, for example," says Fialcowitz. At the same time, using Johnson Controls' equipment, the team also created a physical automated system model, which provided simulations of how the HVAC system could switch back and forth easily between cooling and heating.
Theresa Bethune, sales engineer at Johnson Controls, says "The project and its team definitely exceeded our expectations. They were able to take a troubled building, and with our help, diagnose problems and develop real solutions that we incorporated into an energy study for the University. Overall, we were very impressed with their professional approach and original thinking. It was a positive experience all around." Johnson Controls even hired team member John Baker '02.
If your company or organization would like some help from a Senior Design Project team on an engineering problem, contact Andrew F. Conn at (410) 516-6752.