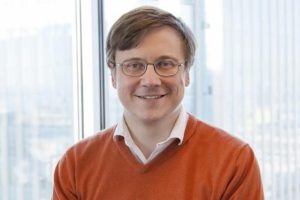 Yury Dvorkin will join Johns Hopkins University later this year as a faculty member of the Ralph O'Connor Sustainable Energy Institute (ROSEI) with a joint appointment with the Department of Electrical and Computer Engineering (ECE) and the Department of Civil and Systems Engineering (CaSE). Dvorkin is the first external faculty member to have been recruited by ROSEI to come to Hopkins. 
Dvorkin's research focuses on developing modeling and algorithmic solutions to assist society in accommodating emerging smart grid technologies – such as intermittent generation, demand response, storage, smart appliances, and cyber infrastructure – using multi-disciplinary methods in engineering, operations research, economics, and policy analysis. His previous and current research has been supported by the National Science Foundation, US Department of Energy, US Department of Transportation, Advanced Research Projects-Energy, Electric Power Research Institute, New York State Energy Research and Development Authority, and Alfred P. Sloan Foundation.
Dvorkin, who is coming to Hopkins from New York University (NYU), views climate change as potentially the greatest societal challenge right now because of its ability to affect millions of lives on all continents. He also believes that one researcher won't be able to figure out how to mitigate the climate crisis by working alone, so collaboration between experts with a variety of skill sets is crucial. 
"I am very grateful to the Whiting School of Engineering and ROSEI leadership for recognizing the complexity and urgency of this issue and enabling faculty at Hopkins to work on the climate challenge," Dvorkin said. "I am also fortunate to have the opportunity to share this thinking with many scholars at JHU and ROSEI that work on avoiding, mitigating, remediating, and adapting to climate change. I'm excited to move my group under the umbrella of ROSEI, because it offers opportunities to collaborate with colleagues who will develop next-generation solar cells and materials for energy storage, understand how to operate offshore wind power turbines and how resilient these turbines are to extreme events, propose new ways of decentralized and autonomous control for complex systems, and design new market mechanisms and policy instruments that will support sustainable development. Such collaboration will not only yield synergistic benefits to individual research groups, advance individual domains of engineering and science but also move the needle on climate and, hopefully, fast enough."