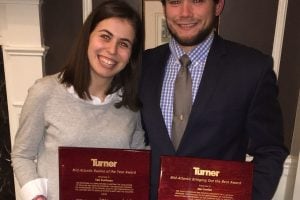 Congratulations to Avital Zenilman (BS '17) and Joseph Conlon (BS '17) who recently received awards from their employer, Turner Construction Company!
Zenilman received the Rookie of the Year Award and Conlon received the Bringing Out The Best Award, which are described below in further detail.
ROOKIE OF THE YEAR:
Staff members who have been with Turner for two years or less and have made a significant contribution (Note: Service time as a co-op/intern does not count towards the two-year service limit); has exceeded all expectations in meeting the challenges of their job in this short time.
BRINGING OUT THE BEST:
Leads others (not necessarily a supervisor); positively influences others to build consensus around departmental, project or organizational objectives; manages and leads change initiatives smoothly and effectively, invests time and effort in coaching and mentoring.
Join us in congratulating them on their awards!
Have news of your own to share? Email Jessica Ader and she'll work with you to publicize your accomplishments and achievements!