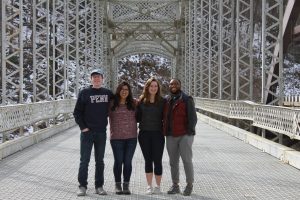 Earlier this month, CE Senior Lecturer Rachel Sangree took students in her Structural Design I class to visit three bridges north of Baltimore: the Jericho Covered Bridge – a wood truss (1865, Kingsville, MD), the Vinegar Hill Road Bridge – an iron truss (1884, Kingsville, MD), and the Paper Mill Bridge – a reinforced concrete trussed arch (1922, Towson, MD).
The field trip supports the course's objectives of teaching students how to design and analyze structural members in steel, reinforced concrete, and wood. For this project, the students will model the three bridges using structural analysis software and evaluate the efficiency of the members and connections in each bridge. By visiting the bridges in person, the students collected information that was not provided on the drawings, gained a better understanding of load path through the full structure, and saw first-hand how connections between members are made in three very different structural materials.
The course contains another project-based experience later in the semester – giving students the opportunity to studying a building in a similar way.