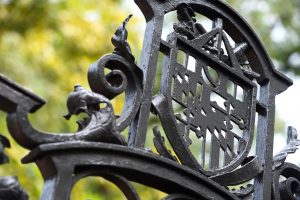 Similoluwa "Simi" Aluko, a playwright and senior within the Department of Civil and Systems Engineering, has been awarded Johns Hopkins' Louis Sudler Prize in the Arts.
Since 1983, The Sudler Prize has been awarded to a graduating senior from the School of Arts and Sciences, the School of Engineering, the Peabody Conservatory, or a fourth-year student from the School of Medicine who, in the opinion of a committee, has demonstrated excellence and the highest standards of proficiency in the visual or performing arts. The award, which comes with a $1,500 cash prize, honors outstanding amateurs who are not pursuing their artistic discipline as a major or a profession. Past winners have been recognized for disciplines as diverse as stand-up comedy and photography.
"It is always a pleasure to review the students' work," said Winston Tabb, Sheridan Dean of University Libraries, Archives and Museums, who chairs the Sudler Prize Committee. "But it was especially heartening after a year of uncertainty and tumult to be reminded of our students' creativity and resilience. We had a very strong pool of nominees this year and it just proves that Hopkins students have an unshakeable commitment to the arts."
Aluko—who majored in civil engineering—submitted a portfolio that consisted of a play, How Palm Wine Sours, and a short story, The Yoruba Man, both of which explore Yoruba culture. Yoruba people are indigenous to Nigeria in West Africa, and Aluko is of Yoruba heritage.
The Sudler jury was impressed not only by Aluko's play, which, as she noted in her application "showcases Yoruba culture through non-conventional English dialogue: Nigerian Pidgin English, and transliterations, proverbs and expressions from Yoruba," but also by the fact that she produced and co-directed the play, which the jurors viewed on video.
The jurors further appreciated the way in which Aluko framed her achievement: "I am especially proud that I have—through my art—lived up to President Daniels' charge to my class during our convocation ceremony to: 'be the class that bridges divides. Be the class that models for all of us the best habits of civil society—habits of debate, dialogue, conflict resolution, consensus-building, or perhaps even compromise.'"
The staging of the play in early 2020 was supported by the Office of Multicultural Affairs, African Students Association, Dunbar Baldwin Hughes Theater Company and Multicultural Leadership Council, as well as the faculty of the theater department. The successful production also allowed Aluko to re-register the Dunbar Baldwin Hughes Theater Company, the only Black and multicultural theater group on campus, which was previously in poor standing.
"I feel very blessed and very grateful to my mentors in the theater department—Peg Denithorne, John Astin, Joe Martin—who always supported and encouraged me, sometimes more than I encouraged myself," Aluko said.
Aluko's post-graduation plans will take her to Stanford University, where she will pursue a degree in Sustainable Design and Construction. She also has no shortage of ideas for how to spend the $1,500 prize money. She might stage her play in Lagos, "once it's safe to do so," she said, or she might put some of her winnings toward her new business, which creates and curates new African literature for readers. What is certain, she said, is that she "will keep writing and telling stories that educate, empower and entertain."
This post is an excerpt from an article originally appearing in the Hub. Click here to read the full article.