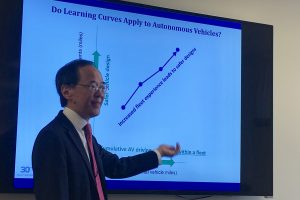 On May 23. 2018, Tak Igusa, professor in the Department of Civil Engineering, along with his collaborator Johnathon Ehsani, assistant professor in the Bloomberg School of Public Health, presented to the Board Members and staff of the NTSB (National Transportation Safety Board) on the topic of the ethics of autonomous vehicle testing.
Their presentation focused on the policies and planning tools that autonomous vehicle companies and cities/states could use to make testing and deployment of autonomous vehicles as safe as possible. The pair is hoping that their work can help the NTSB shape recommendations for regulatory bodies and state and industry lawmakers.
Prof. Igusa is looking at this primarily technology issue from a public health perspective. He is using system methods to deconstruct the safety-related impacts of stakeholder interests in the development of autonomous vehicles. In addition to the NTSB, he has presented his research at the Automotive Safety Council, at the Johns Hopkins Berman Institute of Bioethics retreat, and to the Mayor's Office in Boston – where autonomous vehicles are currently being tested.
Prof. Ehsani examines the role of policy and technology on driver behavior and safety. He has used instrumented vehicles to study driver behavior and has developed a smartphone-based platform to measure risky driving. With his collaboration with Prof. Igusa and others at Johns Hopkins University, he is working towards the realization of transformative safety benefits that autonomous vehicles could bring.