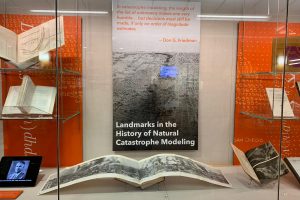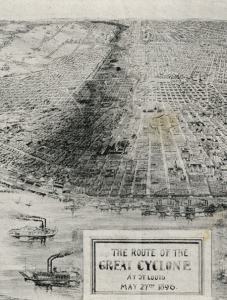 Natural hazards such as floods, fires, earthquakes, and hurricanes threaten human life and property every year across the world, and the risk of future losses is increasing due to population growth, climate change, and urbanization. Thanks to the organization of Adjunct Associate Scientist and Lecturer Dr. Gonzalo L. Pita, the Sheridan Libraries are pleased to host this exhibit featuring important objects and documents that represent historic milestones in the development of catastrophe modeling in the United States, from the late 1800s to today. The exhibit also highlights Johns Hopkins researchers who made important contributions to risk modeling and management.
The objects on view are drawn primarily from private collections, along with related items from the Sheridan Libraries' holdings.
All are invited to attend a lecture by Gonzalo L. Pita, PhD, on October 21st as he discusses the curation this exhibition, and speaks about items on display from his personal collection. The lecture will take place in the Macksey Room, followed by Q and A in the gallery space. For more information, visit https://jhu.libcal.com/calendar/events/landmarks.
The full exhibit is open until December 15th on the Milton S. Eisenhower Library, M-level. A J-Card or photo ID is required for entry.