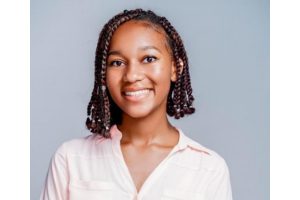 Naomi Rankin, an incoming PhD student in the Department of Civil and Systems Engineering, joins 19 others in being part of the inaugural cohort of Vivien Thomas Scholars. Rankin is an alumna of Howard University in Washington, D.C. 
The Vivien Thomas Scholars Initiative aims to address historic underrepresentation in science, technology, engineering, and math fields by creating pathways for exceptional students from historically Black colleges and universities and minority-serving institutions to pursue PhDs in STEM fields at Johns Hopkins. The program was announced in May 2021 and backed by a $150 million gift from Bloomberg Philanthropies.
Over six years, the program will grow to support 100 PhD students in JHU's more than 30 STEM programs at the schools of Arts & Sciences, Engineering, Medicine, and Public Health. Vivien Thomas Scholars will receive up to six years of full tuition support, a stipend, health benefits, as well as mentorship, research, and professional development opportunities.
"The Vivien Thomas program adds another layer of excellence to graduate programs at Johns Hopkins," said Nancy Kass, vice provost for graduate and professional education. "By attracting top talent from hundreds of undergraduate institutions across the country, selected not only for their academic achievements but also for their leadership potential and likelihood to have an impact, Vivien Thomas Scholars likely will influence the quality and environments of our STEM PhD programs far beyond their numbers."