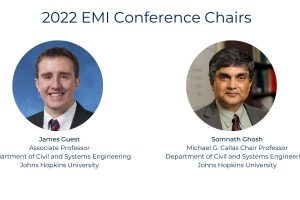 The 2022 Engineering Mechanics Institute (EMI) conference will be hosted by the Department of Civil and Systems Engineering on May 31- June 3, 2022 in Baltimore.
James Guest, associate professor within the department, is the conference chair. Somnath Ghosh, Michael G. Callas Chair Professor in the department, serves as co-chair. 
The conference aims to bring together scholars from around the world to exchange and disseminate the most recent developments in engineering mechanics across wide-ranging fields related to the discipline of civil engineering understood in the broadest sense, including industry applications of engineering mechanics.
Created in October 2007, the Engineering Mechanics Institute (EMI) replaced the former ASCE Engineering Mechanics Division. EMI is the premier interdisciplinary organization of engineering mechanics that promotes research and the application of scientific and mathematical principles to address existing and emerging engineering and societal issues.
The conference is currently accepting abstracts until January 15, 2022. Submit an abstract here.