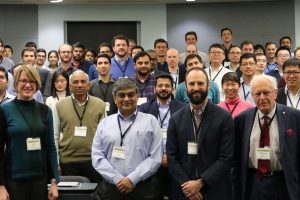 In mid-January, Johns Hopkins was pleased to host a thematic conference for the U. S. Association for Computational Mechanics. Organized by Prof. Michael Shields, the Conference on Uncertainty Quantification in Computational Solid and Structural Materials Modeling brought together prominent scholars in solid and structural mechanics, materials science, and applied mathematics with a shared interest in uncertainty quantification and computational material modeling to exhibit the state-of-the-art, collectively identify existing and future challenges, and promote promising new ideas in the field.
The workshop focused on understanding and quantifying uncertainties in material structure and behavior and propagating these uncertainties through computational material models. This theme encapsulates uncertainty in material performance at and across all length-scales – from atomistic to structural scale – with interest in performance across diverse structural materials ranging from concrete to metals, composites, ceramics, glasses and many others. Emphasis was placed on bring together experts in UQ with experts in mechanics/materials who recognize the need for UQ and the challenges associated with its implementation.
A full list of speakers and presentations can be found on the conference website, http://uq-materials2019.usacm.org. Speakers included representatives from government, national labs, and academia. The conference was organized through the Uncertainty Quantification Technical Thrust Area (UQ-TTA) of the US Association for Computational Mechanics, was supported by the National Science Foundation, and was co-sponsored by the Hopkins Extreme Materials Institute and the Center for Integrated Structure-Materials Modeling and Simulation.