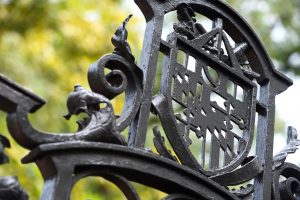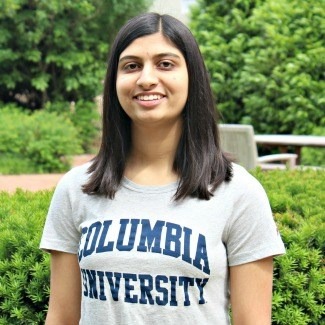 If you asked Natasha Dada four years ago if she thought she would be in the process of creating a journal article manuscript during her sophomore year of college, she would have dismissed the idea. However, through her growing collaboration with JHU's Department of Civil Engineering, that's precisely what's happening.
'I never thought that I would have the opportunity to have my name on a journal article as an undergraduate student. It's still a bit unreal, that something I did has the potential to contribute to the research field," she states. Dada, a computer science major at Columbia University, began her journey with civil engineering while still in high school.
During her senior year at The Bryn Mawr School, Dada secured an internship with the JHU Department of Civil Engineering. She was quickly immersed in the collegiate research environment – attending group meetings, learning MATLAB (a basic software used by engineers and scientists), and even working on a few small projects. 'I had no experience at all and came away from that summer having worked on a few modelling questions myself as well as an idea that I wanted to pursue coding further."
She enjoyed her time at JHU so much that she returned for a second summer. During that time, she built on her foundation and dove a bit deeper into research. She began working on modelling fracture patterns as they relate to load – mainly confirming information that was already published. Yet, this work would prove important in her future.
Her third and final summer internship at JHU proved to be the pivotal point in her journey. Civil Engineering Department Chair Lori Graham-Brady presented Natasha with three projects that she could work on during her time. One immediately jumped out at her – working on design of computer experiments. This project would allow her to sample existing techniques to deem what makes them successful and what the best scenarios for their use would be.
Dada's work plays a part in the research of civil engineering graduate student Anindya Bhaduri, one of Graham-Brady's advisees. Bhaduri is trying to come up with a high dimensional space filling design which can provide better solutions for certain scenarios compared to the state-of-the-art designs. "Having Natasha work with me on the tests has helped move my research along significantly," Bhaduri states. "Our collaboration happened so naturally and now I feel like I'm advising my own student, which is pretty cool."
The summer passed quickly, but the pair had grown into such a dynamic team that they decided to take the collaboration long-distance. Dada completes her undergraduate courses at Columbia and Bhaduri continues his work on the Johns Hopkins Homewood campus. With the help of modern technology, Bhaduri and Dada hold weekly meetings, share data and insights, and have even begun preparing a journal article for submission.
"I think engineering is a highly interdisciplinary field and this project proves it," states Dada. "My analytical point-of-view as a computer science major brings a different perspective than a traditional civil engineering student and provides variety outside of my coursework. I think it's safe to say that I've learned more from this project simply by doing than I could have with coursework."
Is there another summer in store for her at JHU? Unfortunately not. As of print, she's slated to start an internship with Microsoft. However, she will always value her work with Johns Hopkins. 'I felt like I held three different internships during my summers at JHU and had the opportunity to work with a wonderful group of people. The mentorship and experience I gained through my collaboration here has set me up for great success in the future and I can't express my gratitude enough to the Department of Civil Engineering."