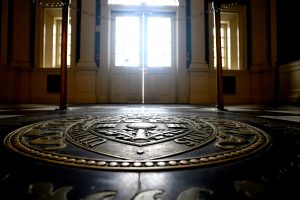 The following students were honored with convocation awards for 2021. This event is a celebration of student and faculty achievements within the Whiting School of Engineering.
"The students honored with these awards truly have accomplished something unprecedented. They have taken this year's challenges—the distance, the uncertainty, the limited access to laboratories and in-person resources—and met them head on with phenomenal energy that will make a difference to the world," said Ed Schlesinger, Benjamin T. Rome Dean of the Whiting School, in his address.
---
American Society of Civil Engineers Maryland Section Scholarship
Recipient: Tim Carlson
The ASCE Maryland Section Scholarship is awarded to an undergraduate member of Johns Hopkins' student chapter in recognition of outstanding academic merit and achievement in civil engineering.
---
Civil Engineering Achievement Award
Recipients: Carson Drew, Naomi Meiselman, Kayla Ostrow
The Civil Engineering Achievement Award recognizes outstanding academic achievement by graduating seniors in the Department of Civil and Systems Engineering
---
Civil Engineering Faculty Recognition Award
Recipients: Simi Aluko and Cassidy Manning
The Department of Civil and Systems Engineering faculty recognize that some students excel in the classroom while also actively participating in leadership and service opportunities in the broader community. We are proud to have these students represent the department.
---
Robert H. Scanlan Award
Recipient: Kayla Ostrow
Robert H. Scanlan was a tireless researcher who made scholarly contributions to both theory and practice in the fields of engineering mechanics, aerodynamics, and the aeroelasticity of civil engineering structures. Scanlan worked in both the private and public sectors, abroad and in the U.S., as well as in academia. In 1984, at age 70, after a full career at Princeton, he joined the Johns Hopkins faculty. He remained an active faculty member here, aiding the Department of Civil Engineering and its faculty, staff, and students, until his passing in 2001. Scanlan brought an indefatigable spirit to his work and made indelible contributions to wind engineering and to the study of bridge aerodynamics—topics that are critical to structural engineering practice. This award is presented to a student who demonstrates an interest in making connections between engineering research and practice.
---
Gerard H. Schlimm Award
Recipient: Cassandra Factora
The Gerard H. Schlimm Award is given to an undergraduate student for exceptional accomplishments in the field of civil engineering. As a longtime Senior Lecturer and Director of the Part-Time and Special Programs at the Whiting School from 1966 to 1994, the late Dr. Schlimm made many contributions to the education of future engineers.