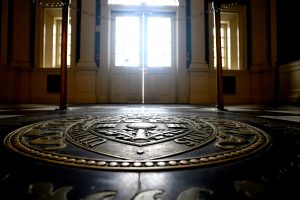 Congratulations to the Center for Systems Science and Engineering team, particularly CaSE associate professor Lauren Gardner and graduate student Ensheng Dong, who recently received the Making a Difference Award from Esri, an international supplier of geographic information system software, web GIS and geodatabase management applications.
The Making a Difference Award honors organizations or individuals who, through the use of GIS, have made a positive impact in their community. Decided on by Esri president and founder Jack Dangermond and Esri leadership, the Making a Difference Award recognizes the use of GIS to contribute to a better world.
The award was presented during esri's annual User Conference.