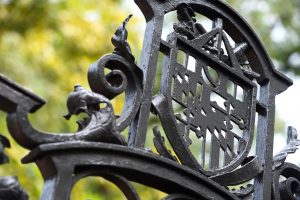 As a solution to the increasing number of COVID-19 patients who require ventilator-related care, James Guest, an associate professor in the Department of Civil and Systems Engineering (CaSE) and associate director of the Johns Hopkins Center for Additive Manufacturing and Architected Materials, is aiding in the development of a 3D-printed ventilator splitter system designed to allow a single ventilator to treat multiple patients.
Guest and his students were already leveraging their experience in the areas of additive manufacturing and materials design on a project related to the design of personal protective equipment when Guest was approached by Sung Hoon Kang, an assistant professor in the Department of Mechanical Engineering, to aid with the ventilator system project. The idea for a split ventilator system originated with Julie Caffrey, an assistant professor in the School of Medicine, who reached out to Helen Xun, a Hopkins medical student who had been conducting research in Kang's lab.
"This is a fabulous example of a truly multidisciplinary collaborative team. I'm thrilled to give students the opportunity both to work beyond the boundaries of traditional civil engineering and to aid in finding solutions to one of society's grand challenges," says Guest.
Guest and his group are serving as the technical lead for a team composed of civil, mechanical, and biomedical engineers. Their goal is to design components in the ventilation splitter system that meet functionality requirements, while ensuring they can be 3D printed across a variety of printing platforms.
Justin Unger, a member of Guest's research group, teamed with Xun to lead design of the system circuit, which involves the arrangement of components in the system. Additionally, Unger and fellow CaSE graduate student Michael Vladimirov are working closely with Chris Shallal, an undergraduate in the Department of Biomedical Engineering, to design the control valves and filter components. Finally, Alberto Torres, another member of Guest's group, is working on manufacturing the components using printers within the CaSE department, while also offering feedback on the overall design.
Justin Unger
Michael Vladimirov
Alberto Torres
"Justin and Michael entered our graduate program after working in industry. Their prior experience has been a tremendous asset to this project. I've enjoyed seeing them flourish and lead design tasks, taking into account the tight turnaround and complexity of the project," said Guest.
The ventilator project began in late March. Full-system prototypes have been tested at the Johns Hopkins Medicine Simulation Center, and the team is hoping to submit the design for FDA Emergency Use Authorization (EUA) approval soon.
To read more details about the splitter system, click here.