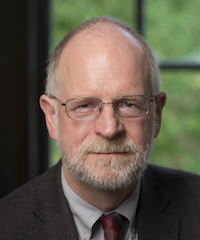 Charles A. Miller Jr. Distinguished Professor
and Department Head
Department of Mechanical Engineering
223 Latrobe Hall, 3400 N. Charles Street
Johns Hopkins University,
Baltimore, MD, 21218-2681
Phone: 410-516-5970
Online Profiles
Education
B.S., Mechanical Engineering, University of Iceland, 1980
Sc.M., Brown University, Division of Engineering, 1982
Ph.D., Brown University, Division of Engineering, 1985
Professional Activities and Recognitions
ASME Fluids Engineering Award, 2012
WPI Sigma Xi Outstanding Senior Faculty Research Award, 2006
Computational Mechanics Award from the Japan Society of Mechanical Engineers, 2005
Fellow of the American Physical Society
Fellow of the American Society of Mechanical Engineers
Fellow of the American Association for the Advancement of Science
Editor-in-Chief of the Journal of Computational Physics, 2002-2015
Research
Computations of multiphase flows. Direct numerical simulations of complex multiphase flows, including heat transfer, boiling, cavitation, solidification, surfactants, and reactions. Applications to turbulent bubbly flows, atomization, additive manufacturing, and other problems. Numerical methods for tracking sharp fluid interfaces. Averaged and reduced order models of multiphase flows. Multiscale approaches to capture small-scales in multiphase flows.
Books
G. Tryggvason, R. Scardovelli and S. Zaleski.
Direct Numerical Simulations of Gas-Liquid Multiphase Flows.
Cambridge University Press, 2011.
A. Prosperetti and G. Tryggvason (editors and main contributors).
Computational Methods for Multiphase Flow.
Cambridge University Press, 2007. Paperback edition 2009.
Reviewed in: J. Fluid Mech., 603 (2008), 474-475;
Int'l. J. Multiphase Flow, 34 (2008), 1096-1097.
G. Tryggvason and D. Apelian (editors).
Shaping Our World: Engineering Education for the 21st Century.
John Wiley & Sons-TMS, 2011.
Click here for a Bibtex File with my journal papers, book chapters, Ph.D. Dissertations that I have supervised, and some of my conference papers. The list of conference paper is very incomplete.
Educational Activities
Click here for an overview.