Do you have a passion for STEM?  Are you interested in volunteering in Baltimore?  Are you interested helping to train the next generation of engineers, scientists, and mathematicians?  If so, sign up to volunteer with SABES today!
If you would like additional information on the SABES program, see below.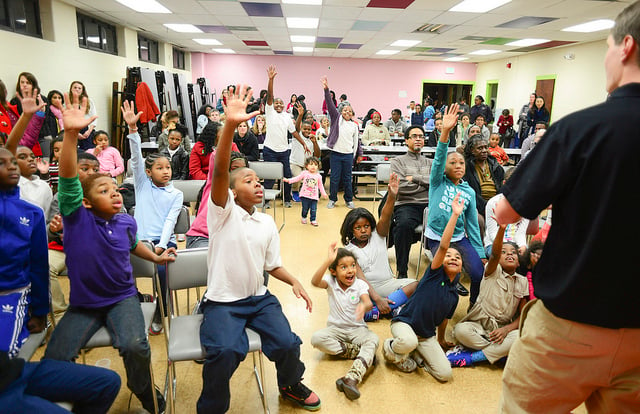 STEM Achievement in Baltimore Elementary Schools (SABES) started as a National Science Foundation (NSF)-funded collaboration between Baltimore City Public Schools (City Schools) and Johns Hopkins University. Its purpose remains to improve educational outcomes in STEM disciplines throughout Baltimore City's elementary schools.
Welcome students into the STEM pipeline at an early age and encourage them to consider STEM majors/careers
Provide students with a meaningful opportunity to meet STEM experts
Explain how science and math are utilized by engineers
Discuss real-life applications of the tools and concepts that students learn in the classroom
Introduce students to STEM careers
Support students completing Student Driven Projects – using STEM to improve aspects of their community

STEM professionals
STEM retirees
STEM faculty
STEM staff
STEM post docs
STEM graduate students
STEM undergraduate students
STEM enthusiasts

Become a mentor for afterschool SABES!

Serve with a partner mentor in support of one SABES afterschool classroom

Support the classroom approximately 6-8 hours / month (plus travel time)

Each week, a pair of mentors assists the students during a 2-hour SABES class
A mentor should visit the classroom 3 or 4 times / month

Serve 28 weeks (or less) throughout the school year

Classes meet four hours a week (sometime between 2:30 and 6:00 PM, Monday – Thursday)
Training for afterschool mentors is typically held in September or October

As an afterschool mentor, you:

build relationships with students and a facilitator
encourage and guide students during STEM activities
support learning of critical thinking skills and the Engineering Design Process.

Hear from our afterschool mentors about their experience:

Various school site locations throughout Baltimore City.