The K-8 project-based science curriculum engages students in critical thinking, problem solving, and prototype development. Throughout the program, students work in collaborative teams to solve real world problems by using the engineering design process. By the time a student graduates from Barclay Elementary Middle School, they will have had  9 years of in-school engineering experience prior to beginning high school.
Curricular Enrichments
Linking Barclay students to Baltimore's rich STEM ecosystem and the Homewood campus.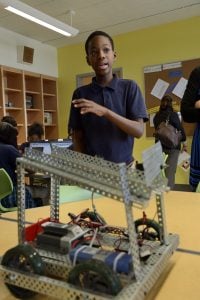 Barclay students participate in unit based, content aligned field studies where they experience real world application of science and engineering content.
Some recent highlights include: 
K – 2 – Making for Young Innovators

 

Futuremakers – Twice per year

 
2

nd

Grade – Role of Pollinators

 
5

th

Grade – Navigating by the Night Sky

 
8

th

Grade – Optimizing a 3D-printed project

 
Previous Curricular Enrichments: 
1st Grade – Day & Night Exploration

 

Banneker Planetarium and Banneker Museum

 
3rd Grade – Animal Adaptations Exploration

 

Carrie Murray Nature Center/AquaPartners

 
4th Grade – Wetlands Habitat Exploration

 

Fort McHenry/Aquapartners

 
6th Grade – What Lives In the Harbor? Exploration

 

National Aquarium of Baltimore

 
7th Grade – Engineering Cohort Experience

 

Automation and Robotics

 at StarAcademy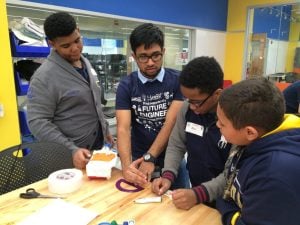 Students in grades 3-8 are invited to the JHU campus to experience both academic and student life. Faculty, staff, and graduate students from the Whiting School of Engineering and beyond, open their labs to Barclay classes for investigations, demonstrations, and engineering challenges align to content standards.
Campus visit themes include: 
3rd Grade – Technology – Now & Then and HUSAM Applied Math Experience

 

4th Grade – Sound Science in the Natural World

 

5th Grade – Alternative Energy applications 

 

6th Grade – Environmental and Civil Engineering

 

7th Grade – Mechanical Engineering and Robotics

 

8th Grade – Protein Modeling