Celebrate National Engineers Week with Johns Hopkins University Whiting School of Engineering!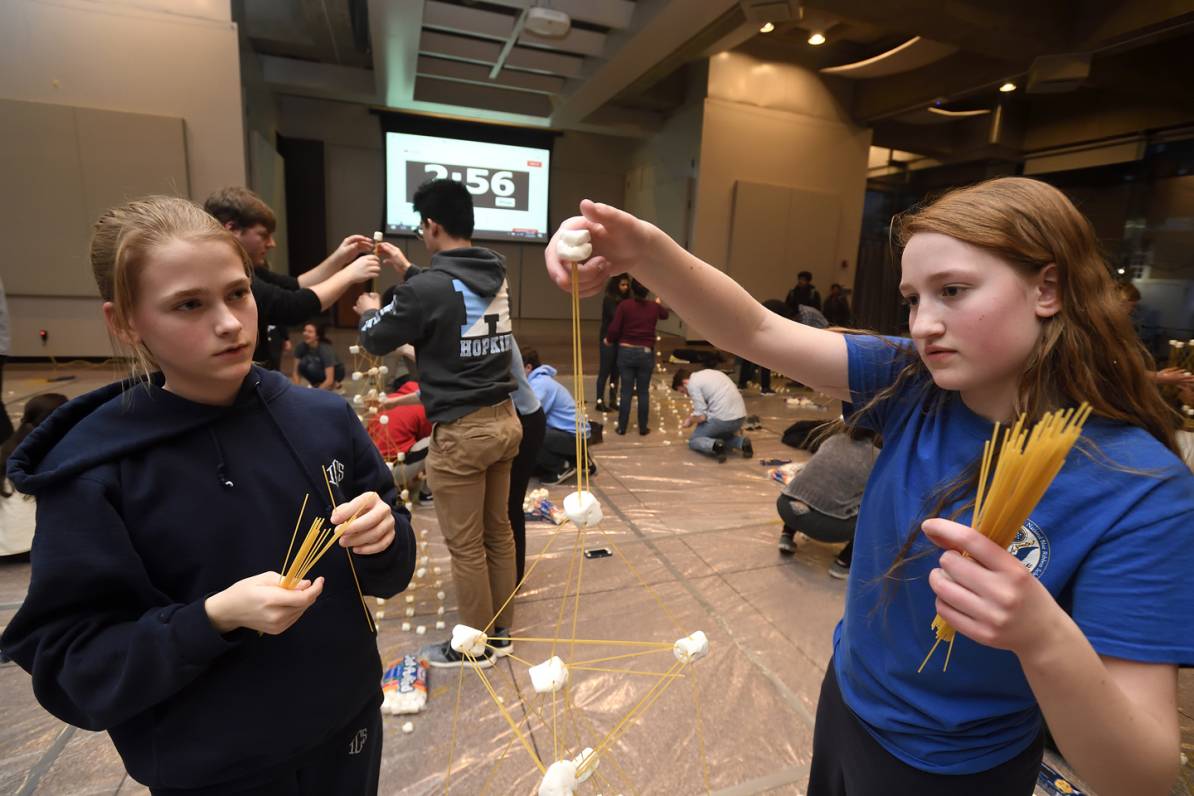 Tower of Power 2024 will take place in-person on the JHU Homewood Campus on Thursday, February 22, 2024. 

A Tower of Power in a Half Hour 
A Middle School National Engineering Week Challenge 
The Johns Hopkins University's Whiting School of Engineering celebrates National Engineers Week (February 18-24, 2024) by inviting schools to build a tower from spaghetti and marshmallows. The top five winning teams across all schools will be invited to JHU's Tower of Power event to build their towers again and compete with undergraduate students, alumni, and faculty teams (optional). 
If your school has questions about participating in the Tower of Power competition or you're ready to participate in next year's event, email us at [email protected]  
Intent to Participate Deadline: 11:59PM on January 19, 2024 
Deadline for School Submissions: 11:59PM on February 4, 2024 
Specifics
Towers are to be built by at least one middle school student (3 team members max) using only: 

 

one (1) 1 pound box of spaghetti

 

2 bags of large marshmallows (30 per bag).

 

The construction time limit is a half hour.

 

Towers must be freestanding.

 
Multiple teams may compete within each school, but each middle school may submit only

one

winning entry to JHU.  Students who compete from home can only team up with middle school students or younger siblings.

 

An entry consists of two items: 

 

A digital photograph of the team and its tower 

 

Photo must show very top & base of the tower

 

Photo must include a measuring stick next to tower to verify height (in cm or inches)

 
A parent, guardian, or teacher-verified height (in cm or inches)

 
Prizes
Each middle school entry will receive a certificate signed by the Assistant Dean for Engineering Educational Outreach.

 

The top five winning teams will be invited to JHU's Tower of Power competition to build a tower and compete w/ undergraduate students, alumni, and faculty teams (optional) and will be recognized on the JHU Center for Educational Outreach website

 
Hints: Triangles are rigid. Structures using triangles tend to be strong. Note all the triangular trusses in the picture. Long lengths of spaghetti will bend. It's probably better to have several short sections rather than one long section. 
Experiment! Design! Build! 
Whose Pasta Will Prevail?
The annual Tower of Power competition at Johns Hopkins pairs spaghetti and marshmallows for feats of strength during National Engineers Week.