EPViz (EEG Prediction Visualizer)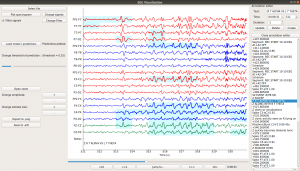 Scalp EEG is one of the most popular noninvasive modalities for studying real-time neural phenomena. While traditional EEG studies have focused on identifying group-level statistical effects, the rise of machine learning has prompted a shift in the community towards spatio-temporal predictive analyses. We have developed the EEG Prediction Visualizer (EPViz) to aid researchers in developing, validating, and reporting their predictive modeling outputs. EPViz is a lightweight and standalone software package developed in Python. Beyond viewing and manipulating the EEG data, EPViz allows researchers to load a PyTorch deep learning model, apply it to the EEG, and overlay the output channel-wise or subject-level temporal predictions on top of the original time series. These results can be saved as high-resolution images for use in manuscripts and presentations. There is also a command-line option for batch processing. EPViz also provides valuable tools for clinician-scientists, including spectrum visualization, computation of basic statistics, data anonymization, and annotation editing.
EPViz can be installed in three ways: (1) cloning our GitHub repository to access the latest version, (2) through PyPI, and (3) as a standalone prepackaged application for MacOS and Windows. [github][pypi][Mac App][Windows App].
Please visit our EPViz page for the complete user guide.
EDF Anonymizer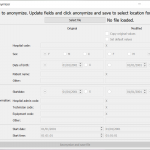 We have also provided just the anonymization tool in EPViz as a standalone module. This tool allows the user to alter the EDF header fields and provides default settings for scrubbing patient IDs and time stamps. [github][Windows App][MAC App]
Epilepsy
Predictive Connectomics
Imaging-Genetics
Preoperative Mapping with Resting-State fMRI
Emotional Speech