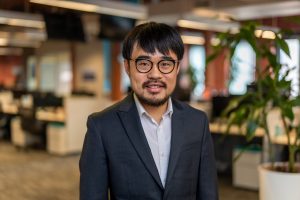 A data scientist in Nasdaq's Machine Intelligence Lab, Yongheng Zhang '21 develops artificial intelligence products to improve financial markets' efficiency and to help various business sectors improve their businesses. His motivation to pursue this career sprang from a desire to help his family's business. 
"My father runs an agricultural company in Jining, Shandong, China, and he encouraged me to pursue a degree in either computer science or finance," Zhang said. "But I was intrigued with the massive amounts of data that my father's company worked with and wanted to help his company make objective decisions based on that data." 
After earning a bachelor's degree in data science at the University of California, Irvine, he enrolled in the data science master's degree program offered through the Department of Applied Mathematics and Statistics at Johns Hopkins University's Whiting School of Engineering.
The onset of the global COVID-19 pandemic in early 2020 forced classes online, which meant that Zhang's graduate school experience turned out to be a bit different than he expected. However, he says he benefited from the constant communication with his peers that online platforms enabled, and enjoyed collaborating with students in virtual spaces. He also found the ability to replay recordings of classroom lectures helpful. 
His classes in machine learning techniques, mathematics, statistics, and optimization skills resulted in him being "very prepared" for his job, he said.
"Courses like "Data to Model," led by Professor Rohit Bhattacharya, taught me how to apply casual inference knowledge to real-life scenarios, and I use that knowledge to this day in my current job," he said. "Hopkins provided a great environment not just for teaching, knowledge, and career resources, but also for the connections. I enjoyed sharing the same passion with others and it proved valuable, as I still have those valuable connections."
Zhang discovered the opportunity at Nasdaq through resources offered by Johns Hopkins University's Life Design Lab, which provides students access to a variety of career-building resources and information. 
At Nasdaq, Yongheng is working on several projects, including using machine learning techniques to optimize collateral value or assets used to secure loans, and another that involves Nordic Closing Cross, a product that helps predict the probability that certain orders, as well as their quantity and price, will be executed by the time the stock market closes on a given trading day. Using custom-built machine learning models, Yongheng and his team are able to predict the closing price range, maximizing trading volume between the buy and sell sides. 
"The machine learning courses offered at Hopkins helped me establish a wide range of knowledge including the use of models, mathematical principles, algorithms, and optimization skills, which helped me understand and complete many projects, such as the Nordic Closing Cross," Yongheng said. "The data science knowledge and skills I learned at JHU definitely prepared me for success in the real world."