Through the course Mathematics for a Better World, the students are working to improve the operations of Bmore Community Food, an organization that receives food donations and distributes more than 15,000 pounds of food each week to approximately 200 families.
"This course has given them a chance to test their database and machine learning skills for a good cause," said Fadil Santosa, the head of the Department of Applied Mathematics and Statistics at Johns Hopkins.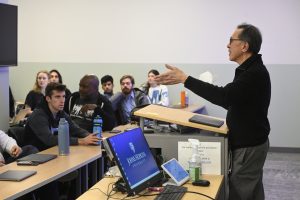 Santosa learned about Bmore Community Food through his wife, who volunteers there. He created the community-based learning course through the Johns Hopkins Center for Social Concern, knowing his students could not only help a worthwhile project, but learn a lot about food insecurity in Baltimore.
At the beginning of the semester, the organization's founder, J.C. Faulk, took the class to the Sandtown neighborhood so the students could see how its residents live without easy access to food. He also met with the students during one of the initial classes to explain how he wanted to distribute at least 4 million pounds of food this year.
"He has plans to expand his operation, so we want to make sure we're creating a system that not only fits his current needs but is scalable as Bmore Community Food begins receiving and giving out more food," said Jillayne Clarke, a junior majoring in applied mathematics and statistics.
The students created a database, dashboard, and volunteer portal for the organization. The tools, which will be accessible on laptops and mobile devices, will allow Faulk's group, which had been using Google Docs and paper files, to better track and visualize inventory as well as donor and volunteer information. They'll be able to retrieve and query data in a matter of seconds rather than hours.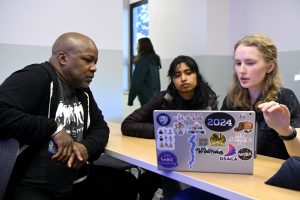 "Our operations will go from the stone age to the Tesla age based on what the students are developing," said Faulk.
The students are also developing a scanning program to minimize human error as Faulk's team tracks food coming in and going out. The group currently tracks that data by hand. Faulk's team will be able to capture data from barcodes to enter food information directly into the database, updating inventory in real-time.
The students hope to complete the project this month. They'll then work with Faulk's team to test these tools and train staff and volunteers.
"It was a little overwhelming at first knowing we only have a finite amount of time, but once we started working on this project, we've been able to be efficient," said Sophia Stone, a junior majoring in public health and minoring applied mathematics and statistics and psychology.
As the students continue working on the project, they're also planning to volunteer with the organization during one of its Saturday food distribution events.
"Talking with people in Sandtown and seeing where they live is a food desert drives all of us to do our best to help Mr. Faulk and his efforts with the organization," said Matthew Kleiman, a senior majoring in molecular and cellular biology and minoring in applied math and statistics.
This excerpt was taken from The Hub. You can view the full story here.