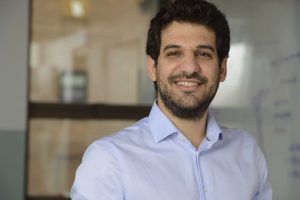 Nicolas Loizou joined the department of Applied Mathematics and Statistics from Mila-Quebec Artificial Intelligence Institute in Montreal, Canada. He holds a secondary appointment in the Department of Computer Science and affiliation with the Mathematical Institute for Data Science (MINDS). With an interest in large-scale optimization algorithms for machine learning and data science applications, Loizou provides insight through a Q&A about his goals and plans for his time at Johns Hopkins.
Tell us a little about yourself.   
I started at JHU in January 2022, and I am really excited about this step in my career. I was born in Cyprus, received my undergraduate degree in mathematics in Athens, and relocated to the UK for my graduate studies, where I got my master's in computer science from Imperial College London. I received my PhD from the University of Edinburgh in mathematics with a specialization in optimization and operation research.  I spent two years in Montreal, Canada for my postdoc studies at Mila – Quebec Artificial Intelligence Institute. My native language is Greek, and in my free time I like travelling, hiking, and swimming.    
Can you give us an overview on your research?   
My research interests include optimization, machine learning and randomized algorithms. Specifically, my current research focuses on the theory and applications of convex and non-convex optimization in large-scale machine learning and data science problems. My group and I are interested in the design, theoretical complexity analysis, and high-performance computing implementations of computationally efficient optimization algorithms able to cope with large-scale machine learning models. In short, we care about solving different data science problems as efficiently as possible with provable convergence guarantees. Our goal is to design algorithms for solving optimization problems found in machine learning tasks.   
What drew you to this field and focus area?   
I found the concept of research fascinating since I was an undergraduate student. The ability to produce something new that could be helpful in several applications is intriguing.     
While I was studying mathematics in Athens, I realized early on that I did not want to focus only on pure mathematics, but rather work on solving more applied problems that appear in real life scenarios. I wanted to understand the fundamental mechanisms behind these problems and propose elegant solutions. Therefore, I decided to continue with a master's degree in computer science to improve my coding skills and to learn more about algorithms and how they can be used to solve advanced practical problems. I decided to pursue a PhD, knowing that I wanted to focus on an area in which I would be able to develop mathematical proofs and run algorithms for solving practical scenarios at the same time.  At the University of Edinburgh, I worked on the design of optimization algorithms with strong convergence guarantees. Since optimization lies at the heart of a wide variety of machine learning tasks, doing research in the intersection of these two areas is really a natural and at the same time exciting direction for me. I am planning to continue working in this area in the future!   
What excites you about bringing this work to Johns Hopkins?   
I am really excited about the collaborative environment of the university, and I am looking forward to working with brilliant students and other faculty members.  The fact that there are so many faculty members working in data science and machine learning makes Johns Hopkins a unique place. Being here allows me to develop my research in a collaborative environment and produce results that could have an impact to different sectors. Additionally, I am a part of the Johns Hopkins Mathematical Institute for Data Science (MINDS), an exciting initiative which brings together a multidisciplinary team of mathematicians, statisticians, and computer scientists, with the goal to collaborate and develop the fundamental mathematical principles for the analysis of massive amounts of complex high-dimensional data.   
In the future, my hope is that my group and I will be able to extend our expertise within the university and to Johns Hopkins Hospital where we can help tackle challenging machine learning and engineering problems in healthcare.  
Tell us about the real-world applications of your research. 
The need to solve optimization problems is ubiquitous in almost all quantitative areas of human endeavor, including industry and science. For example, problems appear in several tasks related to computer vision, natural language processing and personalized recommendation. Look at YouTube and Amazon. When you receive a recommendation of a video on YouTube that you might enjoy or a product on Amazon that you might like based on history of purchases, these are examples of recommendation systems that involve solving an optimization problem. Siri, Google Assistant, or Google Maps are also a few examples of products in which machine learning algorithms and optimization algorithms are used.     
What are some of your goals for this first year at JHU? 
My first goal is to start my own research group. I have already begun working with students in the Department of Applied Mathematics and Statistics and the Department of Computer Science, but officially, I will have my first coming students this fall. I am excited about this next step, and I am really looking forward to it.   
  My second goal is to be a good teacher and, more importantly, a good mentor to our graduate students. I will teach two new graduate courses this fall in the Department of Applied Mathematics and Statistics, both related to optimization and machine learning. 
Anything else we should know?   
One: I have a six-month-old dog named Maple. Two: I used to work as a lifeguard and first aid instructor for five years during the summers of my undergraduate studies, and three: I really enjoy traveling to new destinations and exploring new cultures!