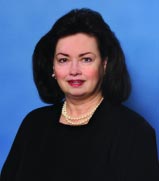 "I've used my engineering skills in the broadest sense: from the B-1 Bomber to FEDEX," says Suzanne Jenniches '79 MSE from her office at Northrop Grumman Corporation in Baltimore, where she is vice president of the Communications Systems business unit. "I began working here as a test engineer in 1974. Although I moved around a lot within the corporation, my skills always served me well."
A versatile pacesetter, after earning her master's in environmental engineering Jenniches went on to become an innovator in defense radar, high-speed package sorting, and manufacturing, to name a few of the areas. Her coaching skills and knack for finding cost-effective engineering solutions earned her a chapter in Swim with the Dolphins, the insightful book about how women succeed in business.
Engineering is actually her second career. While teaching high school biology, she noticed an ad for the Johns Hopkins Part-time Programs in Engineering and Applied Science. So for two years, she taught science during the day and took classes in the evenings. "I found engineering to be so fascinating that I didn't think about how much work I was doing," she says. "But it was very important for me to get a new set of skills while still earning money to pay the mortgage and tuition. I don't think I would have been able to transition without the evening school."
At Northrop Grumman, her experiences have included being supervisory engineer of robotic assembly factories and operations manager for the B-1 bomber's offensive radar. She was singled out from the group's 5,000 engineers to establish the division to develop mail processing and package handling equipment for the U.S. Postal Service and the Small Package Sort System for FEDEX. That "was a tremendous opportunity to change the way packages were sorted for a world-class company," she observes.
The past president of the National Society of Women Engineers, Jenniches received its highest honor, the Achievement Award, in June 2000, for the standards she set in producibility engineering.
Jenniches has become an ambassador for engineering through Northrop Grumman's outreach programs, as the 1988-89 president of the National Society of Women Engineers, and as chair of the National Academy of Engineering's web site aimed at attracting young women into the field (www.engineergirl.org). In May, she gave a well-received address at the Whiting School's Master's Diploma Award Ceremony. Last summer, she joined the Alumni Council of the Johns Hopkins Alumni Association, and plans to continue her outreach efforts. "There is a tremendous shortfall of people going into engineering compared with the need," she states. "We must have more young women and men entering engineering."