This guide is also available as a PDF. Download the WSE Remote Work Resource Guide.
---
Last Updated: October 28, 2020 at 4:21 p.m.
Table of Contents
---
Introduction
Dear WSE community,
With the help of many throughout the school, we have assembled this remote work resource guide to help us as we adjust to a temporary "new normal" way to work and engage.
The COVID-19 pandemic presents challenges in both our professional and personal lives. During this time, we appreciate your efforts to continue to advance the mission of the Whiting School of Engineering.
We are confident that we will successfully navigate this situation together.
Thank you for your ongoing commitment and dedication.
WSE Executive Team
Ed Schlesinger, Jim Aumiller, Chad Clapsaddle, Andrew Douglas, Michael Falk, Megan Howie, Larry Nagahara, Sri Sarma, Ed Scheinerman
---
Expectations
While "telecommuting" certainly isn't new, it has not been a standard practice at WSE. Though more guidance will be forthcoming from the university's HR team, we wanted in the meantime to offer some practical suggestions—including expectations for technology set up and how to work successfully as a team remotely—to get you started.
Below, we summarize expectations for WSE. In addition, the Remote Access at Johns Hopkins site provides a summary of all remote access information for faculty, staff, and students, as well as additional resources that may also be helpful.
For WSE, the following is expected:
As long as the university remains open, all WSE staff are expected to work and should be online and available during normal office hours.
We suggest you ensure – as best you can- that your physical set up at home enables your well-being, including a chair that supports your lower back, a desk or table that lets your wrists be straight when resting on the keyboard, and lighting directly above your work, avoiding glare on your monitor.
We realize that you may have limitations in where you are able to work, and that others may be at home with you. If you do not have a quiet space, let relevant colleagues and constituents know about your context and that you will minimize noise and visual distractions around you as much as possible. Ways to do this include: using headphones if you have them, muting when not speaking (which is best practice for all), and potentially turning video off during conference calls if there is no "blur background" feature.
---
Tips for Working at Home
Phones and Voicemail
It's important that we continue to be responsive to our community generally and to each other.
Forward your desk phone to your cell phone: Telephone forwarding instructions
Forward your desk phone to your cell phone (while away from campus): Remote Forwarding instructions
Add voicemail to your phone if you don't already have it
You can also request to receive email notifications when voicemail messages are left on your desk phone.
Please note that there is a cost associated with this feature, so please seek your manager's approval before signing up.
Click on the yellow Request This Service box.
Click on Telecom Request when the pop-up box appears.
Fill out Telecom Request with your information.

Requested by and requested for – use your name.
Campus – click on your location.(For most of us it will be Johns Hopkins University.)
Work Location – search for the physical location of your workplace. (For example, San Martin is one of the choices.)
Request Details – Type of Service Requested – enter "other."
Description – type in "SMS Voicemail to Email." Include your telephone extension and the email address.
Bill Work Order Charges – enter your cost center or I/O. If you don't know the cost center or I/O, use 1200020205.
Fund Number – if the box doesn't automatically populate, use 1012000000.
Hit the submit box on the right side of the screen.
Remote Computer Access
There are many different remote access tools that provide connectivity to internal resources from offsite locations. We expect most people to use Pulse Secure VPN.
Pulse Secure VPN: Provides a secure connection needed to access Johns Hopkins resources as if you were attached to the campus network. All faculty and staff can use the VPN without the need to fill out an access form.
VPN download instructions and links. The client is available for Windows, Mac, and Linux.
Pulse Secure VPN is accessed through MyJHU portal under the VPN Icon and requires Azure MFA and Pulse Secure installation. If you have Pulse Secure already installed, it can be found in the system tray on your laptop (Windows example below).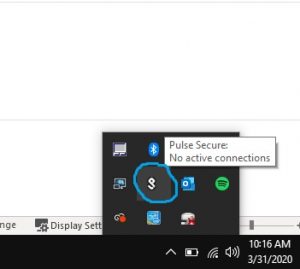 To install Azure Multi-Factor Authentication (MFA) follow these instructions:
If you are working on a personal laptop, you may need to work with IT to set up a remote desktop connection to be able to access remote drives or to use SAP. The MyCloud virtual desktop, available to faculty and staff, is able to provide that access.
Microsoft OneDrive (the replacement for JHBOX for storing files) lets you share files inside and outside JH and allows for collaborative editing.
Use Microsoft Teams to work together and share information via common space. It includes document collaborations, and one-on-one and team chat.
Where to Get IT Help
You should continue to contact [email protected] with your IT-related questions. WSE IT is ready with remote support tools to assist you and to answer your questions. You can also consult the WSE IT Remote Work and Onboarding webpages for answers and assistance. If you need urgent help after hours (for example, with a password reset or help with MFA), please contact the [email protected] help desk line at 410-516-HELP (410-516-4357).
Bringing Home IT Equipment
Employees who wish to take home the IT equipment found on their desk at work should talk to their supervisors. If both parties agree that using work-issued desktop IT equipment will help the employee be more productive, please help us track that using our online form.
Communication Channels for Remote Work
Use a variety of communication channels during the day, as you do when you are office-based, depending on the need. Try to avoid overreliance on email just because you aren't physically with people.
Use Microsoft Teams or Skype for Business for instant messaging, quick requests, or check-ins.
Both Teams and Skype for Business let you set your status, so people know whether you are available outside of scheduled calls. Mark your status as "Busy" or "Do Not Disturb" if you do not want to be interrupted (equivalent to shutting your office door or putting your headset on at work).
In Teams, the status bar is in the top banner.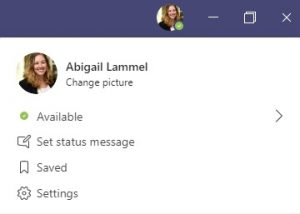 In Skype for Business, it is at the upper right corner.

If you are interrupted and don't want to engage in conversation at that time, then do exactly what you would do in person – say something such as "I'm busy right now. Could we talk again at x time?"
If you find it difficult to sustain the conversation by typing in snippets of text, then ask to move to a video or phone call or ask for time to offer your thoughts in an email instead.
Be aware that your colleagues are looking at your status to know if you are available to talk – the equivalent of walking by your desk to see if you are there.
Make sure to update your status when things change. Don't accidentally leave it on "Do Not Disturb" or "Busy" all day unless you really mean it. If you plan to take time away from your computer to do something else, mark your status as "be right back" and use the custom location feature to let people know when to expect you back.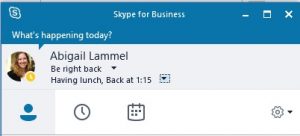 Use Zoom for video conferencing to replace face-to-face meetings.
All WSE faculty and staff are already granted paid Zoom accounts:
Zoom Resource FAQ Request
You may want to install the Zoom Outlook Plugin, which lets you set up Zoom meetings directly from your calendar. After installation, your toolbar will look like this:

We encourage as much face-to-face time as possible for teams working remotely and strongly encourage the use of videoconferencing (rather than telephone) so you can see each other and share screens to collaborate. Keep these best practices in mind and wear business casual within camera view.
---
Maintaining Engagement When Leading Remotely
The key principles to keep in mind here are:
Maintaining connection
Focusing on output
Creative and collaborative problem solving
We  ask  that  managers  conduct  regular  calls  with  their entire teams to avoid staff  feeling isolated and to keep team deliverables on track. In the first few days or weeks, you may do this more often, perhaps a 15-minute "scrum" or roundup call, and then a longer call to work through project status and barriers and to share broader news and context. A standing 15 minutes allows each person to verbalize what they are working on and also provides an anchor for routine.
As a manager, you need to continue to communicate the big picture, reminding the team of its short and long-term goals and how these fit into WSE's broader contribution to the institution.
You will also need to speak with as many team members individually as regularly as you can. Remote working means you have to be more direct and intentional about soliciting issues and identifying problems they may be facing with their work.
To build a sense of shared accomplishment, encourage people to share what they are working on and their progress in live conversations via Zoom or via the conversation and notes features within Microsoft Team. This also drives accountability for results. To maintain momentum and help people adjust to these new ways of working, you may provide more deadlines that are nearer term, breaking deliverables into manageable chunks.
Remote working means you miss out on the "water cooler," hallway, and kitchen conversations. You can be more intentional and schedule a 15-minute "coffee/Diet Coke chat" with someone, or if you see someone is "'green" on Skype, Slack, Zoom, or Microsoft Teams, message them for a check in. Encourage your teams to build this into their calendars.
This will help with wellbeing and feelings of isolation. Your role modeling and permission here will matter.
 If you want to reach a team member easily, you may use the calling features in Microsoft Teams. From the chat window, you can click the video camera to start a video call or the phone to start a phone call with that staff member directly through Teams. If you have the Teams app installed on your phone, you can also initiate and receive calls directly on your phone without having to look up the team member's phone number.
 These are unprecedented and uncertain times. Be sure to share feelings as well as talk about the work. We want to support each other. The WSE team is resilient and committed, and we are all eager to get back to business as usual.
Be sympathetic to the needs of the people working remotely as they balance child-care, the frustration of IT problem, and the isolation that comes with remote working.
Johns Hopkins University Human Resources has created a web page compiling numerous resources for working remotely.
For coaching on particular challenges, you or your team is facing with remote working, please contact your HR Business Partners: John Kunz, Misti Pruski, Valerie Baird.
---
Leading Virtual Meetings
Consider what's the same and what's different about leading Virtual Meetings. Successful virtual meetings rely on many of the same things successful face-to-face meetings do. However, the preparation and active facilitation need to be dialed up. These questions and tips can help you ensure you've considered the range of factors that can have a significant impact.
Preparation
What are the objectives for this meeting, both tangible (e.g., decisions, moving work forward) and intangible (feeling connected and valued)?
Who's required to attend and what roles does each person need to play?
If you are working across time zones, what advance notice do people need to accommodate their respective local schedules?
What does each team member need to do before the meeting to make the time together most productive?
What obstacles can I anticipate? How can I address these?
What additional help do I need? (e.g., someone watching the chat while I am presenting and sharing questions and comments as they come up?)
What additional IT help might others need and how can they get this?
If you haven't used Zoom (or another technology) before, do a test run with someone to make sure you have good video and audio quality and are familiar with the various features.
Active Facilitation
Join the meeting a few minutes early to act as host.
Greet people as they join and ask people to turn their cameras on (this supports the social aspect of the meeting but also means people are less likely/able to be doing something else and give only partial attention to the meeting).
Initiate small talk, introduce team members to one another if they don't know each other, and keep track of who is there.
Start your meeting promptly to be respectful of everyone's time, particularly those who join on time. You don't want to establish or encourage habits with late starts.
Recap the agenda and explain whether you want open conversation (if it's a small group) or if you're going to use the chat feature to gather comments and questions.
End early or right on time and commit to emailing summary/action points promptly.
If your team is new to using videoconferencing to get work done, invite feedback on what's working well and what would be "even better if" next time.
---
e210 – Time and Attendance
The e210 Form is the official university timesheet used to document time worked, paid and unpaid leaves, holidays, and vacation and sick leave accruals and balances. Any questions or requests for training on the e210 form should be directed to your immediate supervisor or to your HR Business Partner.
Employee Responsibilities
Employees are responsible for submitting or approving their time (if entered by their supervisor or timekeeper) as soon as possible after the end of the month. Non-exempt employees (employees eligible for overtime pay) must enter the hours that they have worked and their leave usage on a weekly basis by Wednesday of the following workweek.
Remember: Use of leave is based on current leave accruals; therefore, it is important that the e210 be completed in a timely manner.
e210 during COVID-19 disruption: Your responsibilities as an employee have not changed as we work remotely. Note, however, that all hours worked should be marked in the e210 using the code XO for work offsite.
Absences during COVID-19: Taking time off for vacation or sick time (for an illness other than the coronavirus) should follow the same process as usual (S or V in the e210).
If you need to take time off from work because you have COVID-19 or must be quarantined because of the virus, the university has provided additional coding information.
---
Finance
Travel and General Reimbursements
WSE implemented Concur Expense on February 26, 2020. The best way to access SAP Concur Expense is through the myJH portal. Click Travel and then Concur. Once you are in Concur, you can access Help in the upper right corner of the screen.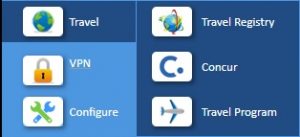 Select Training to view videos, job aids, and Frequently Asked Questions. All of these training resources are also available on the Johns Hopkins Expense Processing portal. Click on Training Materials.
The first thing you will want to do once you are in Concur is update your profile, which is where your personal information, contact information, and emergency contacts are stored. You can also activate e-receipts and add request/expense delegates and travel arrangers, view the approvers for your expense reports, and create a favorite attendee list for business meal expenses. To update your profile, select Profile in the upper right corner and then Profile Settings. A job aid is available under Help if you would like additional guidance.
If you need any help, please email [email protected] for assistance.
Installing the Concur Mobile App
To install the Concur app on your phone, download the Concur mobile app.
Open the app and click SSO Company Code Sign In
Click Next
Enter the Company Code: 7T7HK (no spaces)
Login with your JHED ID and Password
WSE collaborates with many faculty, staff, and students across the university. Access to Concur is based on the home unit of the employee in SAP. For example, the School of Medicine will not implement Concur until May 26. Therefore, if you need to reimburse a student with a position in the School of Medicine, you should still use SAP TRIP to enter the reimbursement and approve via the process in SAP.
Only students with an active, paid position in SAP will have access to Concur. If you need to reimburse a student that doesn't have a personnel number (pernr), then follow the standard non-employee reimbursement procedures.
Travel Cancellations and Reimbursements Related to COVID-19
Policy statement regarding reimbursement of travel expenses incurred pre-trip and subsequently cancelled due to COVID-19 pandemic:
In general, employees may seek reimbursement for travel expenses associated with, and incurred in support of, official Johns Hopkins business. Before seeking reimbursement, employees should contact the travel agency or vendor to request a refund. If the vendor issues a refund, no reimbursement will be processed. If the vendor refuses to issue a refund, a reimbursement request may be submitted.
The following parameters will apply to the reimbursement submission:
Expenses categories include:

Airline tickets
Rail tickets
Hotel and lodging deposits/pre-payment

Expenses must have been incurred before March 11, 2020
Documentation required for reimbursement:

Applicable receipt with proof of payment
Documentation from vendor denying the request for refund
If the ticket was procured outside of the managed travel program, and the vendor is offering a credit for future use, the traveler must provide that documentation, and attest that the funds will be used for official JHU business travel only.

Comments should be added to the reimbursement request clearly identifying the reason for cancellation is associated with the COVID-19 travel restrictions
For questions, please contact [email protected].
Tracking Financial Impacts Due to COVID-19
One important aspect of our preparedness, response, and business continuity efforts related to COVID-19 entails identifying and documenting financial impacts from COVID-19 on WSE operations. This is important for two reasons: 1) for internal management reporting, particularly regarding analysis of FY20 results and the basis for projecting potential ongoing impacts in FY21: and 2) to position the university and WSE well for applying for reimbursement of incremental expenses, either through insurance and/or through federal and state disaster assistance, if the opportunity presents itself.
In order to effectively track COVID-19 expense impacts on WSE operations, the university provided guidance to include routine reporting to the university Budget Office. As you and your teams continue to work on all activities related to COVID-19, it should be noted that the incremental costs related to COVID-19 are to be identified and tracked by charging directly to the new cost objects listed below and not shifting of costs.
Please note these details about the process:
NEW Cost Objects, all ending in *9910, have been created.
The Cost Centers were created by the University for ease of tracking across the broader University
Departments, centers, institutes, and business units are responsible for communicating to their managers/staff the proper use of the cost centers assigned to their respective departments.
Departments are responsible for filling out the expense-tracking template for reimbursement of expenses related to their unit. Please contact the administrative manager of your department, center, institute, or business unit to coordinate populating the template.
The template will collect the following data elements:

Description of Expense: a brief description and purpose
Date the expense was incurred
Amount
Indicate if you may be able to repurpose all or a portion of the expense
Describe how much of the expense may be repurposed and how
---
Department Gift and Check Processing Guidelines
In our business continuity plan, we are aware there could be checks that WSE departments may receive in the mail. We will continue the process of depositing the checks and posting to the corresponding SAP accounts. Since we will not be there in person or in the office, the expectation is that mail will be collected and sorted once a week for each school and department.
Should you receive checks in the mail, all supporting documents for each pledge or gift should be returned to the original envelope or package in which the check was received. Please also scan or take photos of checks and corresponding documentation and send to Natalie Pulliam. Be sure to include all the account information: Account Name, Fund, Cobj., and G/L.
To ensure you do not circulate un-redacted images of either bank account or credit card numbers, you may use a Post-It note to cover these sensitive data prior to imaging. If this is a new account number, please let Natalie know so that she can submit a request to have the account added in ALADIN if it is a gift.
Option #1 (RECOMMENDED): The transmittal and batched mail should be placed in a sealed deposit bag or sealed envelope and mailed to: DAR Office of Advancement Services, Suite N2100, 3910 Keswick Road, Baltimore, Maryland 21211.
Option #2: The transmittal and batched mail should be placed in a sealed deposit bag or envelope, and placed in interoffice mail to OAS/Keswick, Suite N2100.
We can still assist you with deposits for checks that are not related to philanthropy (ex., refunds, reimbursements to JHU, etc.). Please CLEARLY mark the envelope and check confirming the receipt is not a gift, include all account information (Account Name, Fund, Cobj., and G/L,) and follow the above instructions.
---
Mail and Package Service
The U.S. Mail is currently not experiencing any changes in service, so your area may need to arrange to pick up and distribute mail.
Each department/office should arrange for a representative to pick up the mail for the office one or two times per week, depending on the volume of mail delivered.
You can take photos of important mail, such as invoices, and email them to the recipient. If needed, you can also arrange to have the documents mailed to the recipient's home address. Less important mail such as invitations, magazines, junk mail, etc. should be discarded. Please note that if you regularly have personal mail routed to the office, you must redirect it to your personal mailing address.
All mail and packages under 50 pounds can be picked up in the Great Hall in Levering from 1 to 3 p.m. Monday through Friday.
Outgoing mail —mailroom staff in the Great Hall can collect USPS mail requiring postage. Please note that the supplies available at Levering for USPS mail (ex. flat rate priority envelopes, express & certified materials) are limited. Be prepared to provide the following information on mail requiring postage:
Department/Center/Institute Unit Name
Internal Order/Cost Center
Fund (if applicable/known)
Contact name and phone number
Principal Investigator for budget
Is the budget permanent or temporary? If temporary, what is the end date?
If you are an individual expecting mail from the USPS, you may contact Andrew MacSherry at [email protected] or 410-735-6623 to inquire if it has arrived. Individuals must present their Hopkins ID to pick up their mail in the Great Hall in Levering between 1 and 3 p.m. M-F. If you need to go to campus to pick up your mail, you must clear it with your department manager first.
Packages weighing fewer than 50 pounds from UPS/FedEx and other couriers can be picked up in the Great Hall in Levering between 1 and 3 p.m. M-F. You must present your Hopkins ID.
Packages weighing more than 50 pounds from UPS/FedEx and other couriers will be in the Central Receiving area at Keswick. Users can contact Central Receiving regarding delivery options as directed below.
Central Receiving—UPS/FedEx and Other Couriers
All FedEx/UPS deliveries are being directed to Central Receiving. Central Receiving will have packages weighing fewer than 50 pounds delivered to the Great Hall in Levering where they can be picked-up with JHU Identification between 1 and 3 p.m. M-F. Packages that weigh more than 50 pounds will be in the Central Receiving area at Keswick, and users can contact Central Receiving regarding delivery options.
Pallets, half trucks, full trucks would still go to specific address and will be coordinated by individual departments. Contact Central Receiving if assistance is needed.
U.S. Mail Contact:
Andrew MacSherry
[email protected]
410-735-6623
Central Receiving Contacts:
Jennifer Knaupe
Buyer Supervisor
[email protected]
Matthew Persic
Director of Procurement Operations
[email protected]
---
Research Administration
The university and the Whiting School are actively monitoring the COVID-19 pandemic with a focus on the health and well-being of the university community, as well as on the continuity of business operations, particularly around research administration.
Several resources have been established to share information and address a variety of concerns raised by the research community. These websites are updated daily with important information, so faculty and staff are encouraged to refer to these resources often.
Johns Hopkins University Research Administration (JHURA)
Johns Hopkins University Research Administration (JHURA) is prepared to provide remote business operations support as usual. This includes the ability to adhere to established submission deadlines. Staff remain fully operational and reachable by email, MS Teams, and Skype. Video conferencing is available upon request. Please continue to work with your respective research administration office contacts as you normally would.
If you aren't sure who to contact, general inquiries for all research administration matters can be sent to [email protected] and you should expect to receive a response within 24 hours.
---
Communications and Events
Our Responsibility with Communication
Given the current role of Johns Hopkins University and Medicine on the national stage, we want to make sure that all JHU/JHM employees are being very careful in their own social media posts and in our division/department/center/institute social media presence. It is important that we do not offer expertise other than to pass along university approved communication, such as the Johns Hopkins Coronavirus Resource Center.
Event Management Best Practices
There are many types of events that WSE hosts including Convocation, Design Day, graduation ceremonies, alumni relations, stewardship, lectures, and development events. The examples that follow are pertinent to business continuity during the time of COVID-19.
Overall Event Communication
When determining whether to cancel or proceed with an event:
Please discuss with your direct supervisor, as this has been a quickly evolving situation. While we want to be mindful of our regular practice of getting event invitations out in a six-to-eight-week week period, current circumstances may alter our regular practice.
Whenever in doubt, check with your divisional communications office or the Central Communications office. If you are unsure, it is always better to ask.
Communication platforms: web updates, social media, phone calls and messaging, emails, and communications for handling cancellations and refunds. Every messaging moment is unique and might not need multiple communication channels.
Each instance of event communication should be evaluated under these steps:
Should the entire group – alumni, staff, school, etc. – receive a message from your office?
Should you connect with WSE Marketing and Communications and/or the university's Office of Communications to ensure uniform messaging?
Who should the message come from?
Should legal approve first?
How should we communicate, and what is that mode of communication? Should it be an overall email, a social media post, phone call and/or a web post?
How to do we ensure all guests are aware of any changes to an event?
Note: All externally facing communications should be reviewed by Karen Lancaster. When sending items for review, please indicate:
Intended audience
Urgency/timetable
Whether it has been fully vetted through your divisional/school leadership AND relevant university leaders responsible for the general theme (i.e. – academic process/research considerations; legal/financial/contractual implications; does it align with established university policy in the current environment? If not, has that deviation been approved? If yes, by whom?
When your communication is distributed, please forward a final version (or include in your distribution list) Karen Lancaster and Mary Kay LeMay, assistant dean for marketing and communications for WSE.
Examples of Events Updates – Whiting School of Engineering
University Web Updates
General: engineering.jhu.edu – COVID-19 Updates (in top bar) links to novel coronavirus information and resources for the university community.
WSE: engineering.jhu.edu/covid-19– Page contains communications sent to WSE community, FAQs for members of the WSE community, and links to university resources (including JHU's Coronavirus Resource Center).
Sample Event Cancellation/Postponement/Rescheduling Text for WSE
Dear (First Name),
The rapidly evolving nature of the COVID-19 pandemic has called upon Johns Hopkins to take a series of unprecedented steps to safeguard our community. The university has suspended all in-person classes through the spring 2020 semester. With that, all in-person, university events are suspended pending further notice, including tours, admissions events, and alumni events. Unfortunately, that means that (XXXXXXXX event is cancelled/postponed/moved to remote XX/fill in the blank). We sincerely apologize for any inconvenience this might cause and we will be in touch with additional information in the future.
Social Media Posts for Official WSE Entities (Division/Departments/Centers/Institutes)
Consider the following when sharing content to official university channels.
Social media posts related to university operations should mimic web and email communications.
Before sharing non-COVID-19 information, consider the content and tone of your post.
Before sharing any content, ask yourself, "Is this something my audience needs right now?"
---
Advisory Boards
Communicating with Advisory Boards
Members of our central, department, and center/institute external Advisory Boards and Advisory Committees see themselves as leaders. They should be informed of important decisions that the university has made that will affect the efforts of the school or department.
Note: all alumni will be forwarded announcements from President Daniels regarding COVID-19 within 24 hours of the message. It may still be appropriate to forward important messages to Advisory Boards.
---
Sample Forwarding Language
Dear WSE Advisory Board,
As I am sure has been true for all of you, the impact of COVID-19 on the university has been significant.
I am writing to share with you a message that I just sent to the WSE community, following-up on an email from President Daniels announcing further changes taking place at JHU in response to COVID-19, and will be in touch next week with details about our spring meeting.
I hope that you and your families and loved ones are doing well.
Sincerely,
Ed Schlesinger
Benjamin T. Rome Dean
---
Leading Advisory Board and Council Meetings Virtually
All upcoming spring Advisory Board meetings should be transitioned into remote formats. The school recommends using the Zoom platform.
Here are some best practices to consider to ensure your meetings remain meaningful and engaging.
Preparing for Your Meeting
Decide on a new meeting time. Virtual meetings should be shorter than in- person meetings. Current location and time zones of members should be considered.
Communicate the switch to a virtual meeting in advance. Ask members to register for the meeting.
Agenda and connection instructions should be shared with all participants as early as possible so they can make necessary arrangements.
Agendas should allow members to help problem solve, especially during this time of uncertainty. Empowering members to serve as sources of advice can generate fresh ideas in response to current business challenges.
Provide Zoom and dial-in options but encourage members to utilize their video function.
Giving users the additional option to dial in will help accommodate those who have poor internet connections and/or lack speakers or microphones on their computers. All Zoom meetings have both a meeting link and dial-in information.
Gather specific questions in advance. Members may have COVID-19 related questions.
Send materials and presentations in advance where possible.
Practice with the technology. If possible, hold an internal meeting using the Zoom platform in advance of your Advisory Board meeting. Review functions such as muting microphones, use of chat rooms, identifying who is speaking, screen sharing, displays options, etc.
Ask your speakers to practice with the technology. Request that speakers turn off any email notifications, calendar invites, and instant messengers that could pop up on the screen during a meeting. This is distracting to the audience.
During Your Meeting
Arrive early – Connect at least 20 minutes early; do not wait for the meeting start time to connect in case there are technical issues that need to be Members may also join before the scheduled meeting time.
Expect that the first five to 10 minutes may be used to help members experiencing technical difficulties. Have a dedicated staff member available to assist that member.
Introductions – Have participants introduce themselves to the group. In a large meeting, establishing an order for participants to introduce themselves can be difficult. So, we suggest that the meeting leader call on each member and ask them to introduce themselves.
Elicit comments/agreements/questions – Remote conferencing lacks the non-verbal feedback of face-to-face meetings, so it's often important to facilitate extra communication. Be explicit: ask the group or individuals if they understand or agree with what has been said.
Use wording caution – Be cautious about using the live-meeting technologies to say or type anything that would not be appropriate for all participants to hear or read. Mistakes are easily made and can undermine group
Manage the meeting – Have a staff member prepared to mute participants if there is too much noise/feedback, review chat to ensure questions are answered, keep an eye on the waiting room, etc.
After The Meeting
Share materials and meeting minutes.
Thank participants for their time (and understanding if technical difficulties arose).