The Richard J. Carroll Memorial Lectureship in Civil Engineering was established at Johns Hopkins University to commemorate one of Baltimore's leading structural engineers. The lectureship has been endowed by the many friends and admirers of Richard Carroll, who died in 1982. That endowment contributes to the ongoing guest seminars in the Department of Civil and Systems Engineering and provides for these special lectures.
Richard J. Carroll received his bachelor of civil engineering degree from Villanova University in 1955. He studied advanced structural design at Johns Hopkins University and George Washington University. He was chief structural engineer for the firms of Knoerle, Bender, Stone, and Associates, and Ewell, Bomhardt and Associates, and chief field engineer for the Portland Cement Association. In 1964, he founded his own firm, Carroll Engineering, Inc., which grew to 26 employees under his leadership. Mr. Carroll published several papers dealing with concrete use and design, with emphasis on post-tensioned and pre-stressed concrete. He also taught courses in ultimate strength design and plastic design in steel. He belonged to numerous professional societies. His untimely death at the age of 49 left a legacy of professionalism, integrity, and vigor.
Donors to the Carroll Memorial Lectureship include:
Carroll Engineering, Inc.
Leonard J. Dack
Ralph and Dorothy DeChiaro Foundation
Stuart Hettleman
William W. Keeney
Lester Komaroff
Lawrence R. Rachuba
Amy Swirnow
David Swirnow
Richard Swirnow
John S. Walter
2021 Richard J. Carroll Memorial Lectureship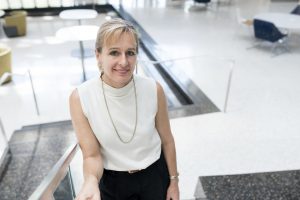 Kara Kockelman
Dewitt Greer Centennial Professor of Transportation Engineering
Department of Civil, Architectural and Environmental Engineering
University of Texas at Austin
"Large-scale Shared AV Simulations with Geofences, Stop Aggregation, and Parking Restrictions"
With autonomous vehicles (AVs) still in the testing phase, researchers and planners rely on simulation to explore shared AV (SAV) fleet operations and system-design strategies. SAV operations with and without dynamic ride-sharing (DRS) or "pooling" options across five Chicago-area geofences are compared here, along with pickup and drop-off stop (PUDO) aggregation and curb-use restrictions on busy streets across the Bloomington, Illinois, and Minneapolis-St. Paul regions. Results demonstrate how service-area limitations lower SAV response times, lower vehicle-miles traveled across all modes, and ensure rather uniform response times over space.
Bloomington results suggest that greater PUDO spacings and higher SAV-use levels increase SAV occupancies marginally, while lowering vehicle-miles traveled notably, as compared to door-to-door SAV fleet operations without DRS or PUDOs.
Minneapolis-St Paul results suggest the average SAV in this region can serve at most 30 person-trips per day with less than five-minute average wait time, thereby replacing about 10 household vehicles but generating 13% more vehicle-miles traveled.
Wednesday, March 10, 2021
5 PM ET
Click here to register*
*ASCE-MD members looking for a PDH certificate must register to receive credit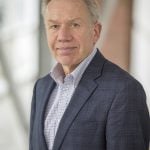 Glenn R. Bell, Former Senior Principal, Simpson Gumpertz & Heger

On March 11, 2020, Glenn R. Bell, Former Senior Principal, Simpson Gumpertz & Heger, presented the 2020 Carroll Lecture. His talk, titled, "Learning from Observation of the Performance of Our Built Environment in the 21st Century" discussed the history of our built environment and how advances in the past two centuries allowed for advancing the technical and procedural bases for structural engineering. Event brochure with more information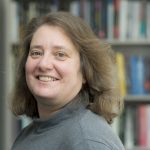 Linda Nozik, Director and Professor of Civil and Environmental Engineering, Cornell University
On March 13, 2019, Linda Nozik, Director and Professor of Civil and Environmental Engineering at Cornell University, presented the 2019 Carroll Lecture. Her talk, titled, "Optimizing the Issuance of Evacuation Orders Under Evolving Hurricane Threat" discussed a bi-level programming model to optimize the issuance of evacuation orders with explicit consideration of (i) the highly uncertain evolution of the storm, and (ii) the complexity of the behavioral reaction to evolving storm conditions. A realistic case study for the eastern portion of the state of North Carolina was presented. Event brochure with more information
SawTeen See, P.E., C.E., Dist.M.ASCE
On March 14, 2018, SawTeen See, P.E., C.E., Dist.M.ASCE, presented the 2018 Carroll Lecture. Her talk, titled, "Some Long-Span and Some Tall Buildings by SawTeen See" shared some of the highlights of her collaborations with architects in the design of pedestrian bridges, museums, convention centers, and some of the world's tallest buildings. She discussed projects such as the AIG pedestrian bridge in Hong Kong, the NASCAR Hall of Fame in Charlotte, NC, the Baltimore Convention Center Expansion, the Shanghai World Financial Center, the 555m Lotte World Tower in Seoul (the 5th tallest in the world), the 630m PNB 118 tower under construction in Kuala Lumpur, Malaysia, and innovations for some super high-rises of the future. She is a structural engineer with 40 years' experience. Event brochure with more information
Dr. Ahsan Kareem, Robert M. Moran Professor of Engineering, Director of the NatHaz Modeling Laboratory, University of Notre Dame
On March 8, 2017, Dr. Ahsan Kareem presented the 2017 Carroll Lecture. His talk was titled "Wind Effects on Structures: Fundamentals to Emerging Frontiers". Dr. Kareem is elected President of the International Association for Wind Engineering (IAWE). He has been awarded numerous honors, including the White House Office of Science and Technology's Presidential Young Investigator Award, as well as ASCE's Theodore von Karman Medal, James Croes Medal, Robert H. Scanlan Medal, Jack E. Cermak Medal and State-of-the-Art Award. Other honors include: induction into the Offshore Technology Conference Hall of Fame; Distinguished Member of ASCE; IAWE's Alan G. Davenport Medal; IASSAR (International Association for Structural Safety and Reliability)'s Distinguished Research Award. He has served as a High-End Foreign Expert at Tongji University and delivered the 2013 Scruton Lecturer at the Institute of Civil Engineers, London, UK. He has been appointed Honorary Professor at several universities overseas, serves on the Editorial Board of several international journals including Engineering by the Chinese Academy of Engineering and has recently co-authored two books. He is an elected Member of the U.S. National Academy of Engineering and a Foreign Fellow of the Indian National Academy of Engineering. Event brochure with more information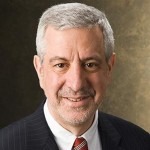 Raymond P. Daddazio, EngScD, P.E., F.EMI., Co-President, Thornton Tomasetti
On April 13, 2016, Raymond P. Daddazio presented the 2016 Carroll Lecture. His talk was titled "The Imperative to Innovate". As Co-President of Thornton Tomasetti, Ray Daddazio provides strategic and operational leadership across the firm. During his nearly 40-year career, he has held various leadership roles, including that of President and CEO of Weidlinger Associates, which merged with Thornton Tomasetti in 2015. Prior to his election as Weidlinger's President in 2006, Ray was Director of the firm's Applied Science division. As such, he oversaw all of the firm's advanced analysis initiatives including blast effects on structures, encompassing civil infrastructure elements such as bridges, tunnels and terminals belonging to the Port Authority of New York and New Jersey and the New York State's Metropolitan Transportation Authority. Event brochure with more information
John A. Ochsendorf, Ph.D., Massachusetts Institute of Technology
April 8, 2015, John A. Ochsendorf presented the 2015 Carroll Lecture. His talk was titled "Challenges and Opportunities For Structural Design". Dr.Ochsendorf is the Class of 1942 Professor of Structural Engineering and Architecture at the Massachusetts Institute of Technology, where he directs the Structural Design Lab and the Masonry Research Group. Trained in structural mechanics at Cornell, Princeton, and the University of Cambridge, he conducts research on the structural safety of historic monuments and the design of more sustainable infrastructure. A founding partner of the firm Ochsendorf DeJong and Block Engineering, his team has worked on the static and dynamic analysis of significant structures and has contributed to the design of several award-winning buildings around the world. Ochsendorf is the author of "Guastavino Vaulting: The Art of Structural Tile" (Princeton Architectural Press, 2010) and several dozen journal papers in structural mechanics. He has been awarded a Rome Prize from the American Academy in Rome and a MacArthur Fellowship from the John D. and Catherine T. MacArthur Foundation. Event flyer with more information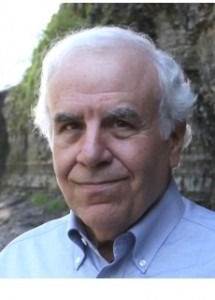 Anthony R. Ingraffea, Ph.D., P.E., Cornell University
April 9, 2014, Anthony R. Ingraffea presented the 2014 Carroll Lecture. His talk was titled "Geology Rules: Unconventional Development of Gas/Oil from Shale Formations". Dr. Ingraffea is the Dwight C. Baum Professor of Engineering and a Weiss Presidential Teaching Fellow at Cornell University where he has been since 1977. He holds a B.S. in Aerospace Engineering from the University of Notre Dame, an M.S. in Civil Engineering from Polytechnic Institute of New York, and a Ph.D. in Civil Engineering from the University of Colorado. Dr. Ingraffea's research concentrates on computer simulation and physical testing of complex fracturing processes. He and his students performed pioneering research in the use of interactive computer graphics and realistic representational methods in computational fracture mechanics. He has authored with his students and research associates over 250 papers in these areas, and is Director of the Cornell Fracture Group (www.cfg. cornell.edu). Event flyer with more information
Robert H. Dodds, Jr., NAE, University of Tennessee
April 10, 2013, Robert H. Dodds presented the 2013 Carroll Lecture. His talk was titled "Fracture of Steel Structures: from microns to meters". Professor Dodds joined the University of Tennessee as a Research Professor in August 2012 following his retirement from the University of Illinois at Urbana‐Champaign. Professor Dodds earned the Ph.D. in Civil Engineering at the University of Illinois at Urbana‐Champaign in 1978. Before returning to Illinois in 1987, he served on the faculty at the University of Kansas for nine years. He has been an active researcher in the field of nonlinear fracture mechanics and computational methods for more than 30 years. Professor Dodds has published more than 120 refereed journal papers in the areas of fracture mechanics, fatigue, computational methods, and software engineering. Event flyer with more information
Bruce R. Ellingwood, PhD, PE, NAE, Georgia Institute of Technology
April 11, 2012, Bruce R. Ellingwood delivered the 2012 Carroll Lecture. His lecture was entitled "Abnormal Loads and Progressive Collapse -Assessment of Building Vulnerability and Mitigation of Risk." Dr. Ellingwood holds the Raymond Allen Jones Endowed Chair in Civil Engineering at the Georgia Institute of Technology, where he is also College of Engineering Distinguished Professor.He is internationally recognized as an authority on structural load modeling, reliability and risk analysis of engineered facilities, and as a leader in the technical development and implementation of probability based codified design standards for building structures. Dr. Ellingwood directed the development of the probability-based load criteria for limit states design that appear in ASCE Standard 7 on Minimum Design Loads, the AISC Specification for Structural Steel Buildings, ASCE Standard 16 on LRFD for Engineered Wood Construction, and ACI Standard 318 on Structural Concrete, and both national Model Building Codes. Event flyer with more information
Reginald DesRoches, PhD, Georgia Institute of Technology
April 13, 2011, Reginald DesRoches delivered the 2011 Carroll Lecture. His lecture was entitled "Application of Smart Materials in Natural Hazard Mitigation." Reginald DesRoches is a Professor and Associate Chair of Civil and Environmental Engineering at the Georgia Institute of Technology. His primary research interests are design of buildings and critical infrastructure under earthquake engineering, seismic risk assessment of lifeline systems, and application of innovative materials in rehabilitation of structures. He has published over 180 articles in the general area of structural and earthquake engineering. Dr. DesRoches has served as Chair of the ASCE Seismic Effects Committee (2006-2010), and Chair of the executive committee of the Technical Council on Lifeline Earthquake Engineering (2010). Event flyer with more information
William F. Baker, PE, SE, FASCE, FIStructE, Skidmore, Owings & Merrill LLP
On April 14, 2010, WilliamF. Baker delivered the 2010 Carroll Lecture. His lecture was entitled "Creating New Architecture: Studies in Structural Topology." Baker is the Structural and Civil Engineering Partner for Skidmore, Owings & Merrill. Throughout his distinguished career, Bill has dedicated himself to structural innovation– most notably in the design of tall buildings within the urban landscape. His most recent contribution has been to develop the "buttressed core" structural system for the Burj Khalifa, a system which, in conjunction with sophisticated wind engineering, makes it possible to construct skyscrapers of extreme elevation. Event flyer with more information
George Deodatis, PhD, Simulation of Stochastic Processes and Fields, 2009.
Dennis R. Mertz, P.E., The Safety of Our Nation's Bridges, 2008.
Dr. Greg Deierlein, Performance-Based Earthquake Engineering: Enabling Transparent Risk Assessment and Innovative Building Design, 2007.
Leslie E. Robertson, P.E., S.E., Let's Discuss the Tall Building: What Are Its Roots? How High Can We Go?, 2006.
Zdenek Bazant, PhD, Size Effect and Need for Reform of Reliability Concepts for Quasibrittle Structures, 2005.
David Gissen, PhD, Enviro-Scraper: A Green Image of the Immense, 2004.
Theodore V. Galambos, PhD, Structural Stability Research and Stability Design Criteria, 2003.
William Gene Corley, PhD, Building Performance Study of the World Trade Center Attack, 2002.
Surendra P. Shah, PhD, Ultra High Performance Concrete, 2001.
Robert A. Dalrymple, PhD, In Over Your Head: Engineering at the Coastline, 2000.
John W. Fisher, PhD, Performance of Steel Bridges and the Role of Large Scale Tests, 1999.
Raymond J. Krizek, PhD, Geotechnical Engineering: Unde Venimus et Quo Vadimus?, 1998.
Eugene J. Fasullo, Visions of Leadership: The Role of Engineers in Rebuilding Our Country, 1997.
Mitchell Small, PhD, New Directions and Dimensions in Risk Management, 1996.
Charles H. Thornton, PhD, Mixed Construction for High-Rise Towers, 1995.
Thomas O'Rourke, PhD, Geotechnical Engineering for Lifelines and Infrastructure, 1994.
William McGuire, The Role of Analysis in Steel Design, 1993.
T. Y. Lin, Innovative Bridge Crossings – Environmental, Economic, and Constructional Considerations, 1992.
Robert Mark, PhD, Justinian's Hagia Sophia: Reinterpreting the Structure of Ancient Large-Scale Domes, 1991.
Adel S. Saada, PhD, From Kicking the Soil to Kicking the Computer, 1990.
Gerard F. Fox, Cable-Stayed Bridges, 1989.
David P. Billington, Bridges, Vaults and Towers as Art Forms, Fall 1985.
Leslie E. Robertson, The Role of the Structural Engineer in the Development of Building Concepts, Spring 1985.