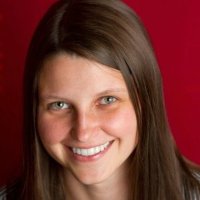 Dr. Julie Fogarty
Julie earned a Bachelor's degree in civil engineering from JHU in 2010, JHU, and completed our Master's program in civil engineering in 2012. She then traveled to the University of Michigan, where she earned a Master's degree in aerospace engineering in 2013 as well as her doctorate in civil engineering in 2015. We caught up with her to talk about her time here at JHU and learn a bit more about her journey to where she is today.
1. What led you to pursue a degree at JHU, specifically within the civil engineering department?
I decided I wanted to be a civil engineer my freshman year of high school after participating in a balsa wood bridge building contest hosted by my local university ASCE chapter. I chose Hopkins because it seemed like the best fit in terms of student body size, the fact that faculty are the ones actually teaching classes, and the financial aid offer. I also loved the campus when I visited in the Fall before applying.
2. What was the most challenging thing you did at JHU?
Take Elementary Number Theory from the Math Department my senior year. It was incredibly interesting, but my mind was stuck in a practical engineering mindset instead of the far more abstract mindset I needed to wrap my head around to efficiently do proofs.
3. What was the most useful class you took during your time at JHU?
All of the civil engineering classes were incredibly useful. I enjoyed theory of structures and advanced structural analysis the most.
4. If you could go back in time and give your student self one piece of advice, what would it be?
Start asking about doing research in your first or second year at JHU instead of your last.
5. What was your most memorable moment at JHU?
Some of my happiest memories are from the department ASCE BBQs out on the lawn in front of Latrobe playing whatever sport we had on hand (wiffle ball, soccer, ultimate) with all the grad students and faculty.
6. How did your time in the civil engineering program prepare you for your current career?
I now teach the classes I was taught at JHU, so I'm well prepared.
7. Time to brag. What accomplishments/awards have you earned/received since graduation?
2010-2013 NSF Graduate Fellowship (technically won my senior at JHU thanks to the advice/guidance of Prof. Guest)
2010-2015 Rackham Merit Fellowship (University of Michigan)
2013 Best of the Best Poster Award (ASCE Structures Congress)
2014 Provost's Teaching Innovation Prize (University of Michigan)
2014 Structural Engineers Foundation Graduate Scholarship
2014 ASCE O.H. Ammann Research Fellowship in Structural Engineering
2015 Earthquake Engineering Research Institute Graduate Research Fellowship
2015 Towner Prize for Outstanding Engineering Graduate Student Instructors
2015 Dr. Teh-Hsun and Mang-Shuen Lee Award in Engineering and Science (University of Michigan)
8. What is one important thing that you think every young professional entering today's workforce with a civil engineering degree should know?
Make sure you work on your non-technical (writing, communication, business) skills in addition to your technical ones if you plan on going into private industry.